Disaster, Recovery, and Resistance: Cecilia Aldarondo on Landfall
Set in Puerto Rico, from the onset of the devastating Hurricane Maria in 2017 until the 2019 protests that led to the resignation of Governor Ricardo Rosselló, LANDFALL is a new documentary with enduring lessons. Directed and produced by award-winning filmmaker Cecilia Aldarondo, the film was slated to premiere at the 2020 Tribeca Film Festival which was postponed due to COVID-19. The documentary was recently presented as part of the 2020 Hot Docs Film Festival online, and will make its broadcast debut on the PBS series POV in 2021. We spoke with Aldarondo about the interplay of economic, social, political, and scientific realities affecting Puerto Rico and the rest of the U.S.
Science & Film: Why did you want to make this film?
Cecilia Aldarondo: Science is social. Science is a tool, or a series of knowledges, that are meant to respond to our lived reality or our material world, so in that sense I think that any conversation about climate change right now has to address human factors. The question of how a society recovers from some kind of cataclysmic event, in this case weather-related­–it can't be separated from political realities and priorities. In fact, a lack of attention to social factors is what puts us at risk of employing bad science.
In the case of Puerto Rico, you had an economic agenda that is first of all rooted in colonialism that goes back to Christopher Columbus. Storms don't just arrive at an empty place; they don't arrive at places that are without history or culture—they arrive in cultured, populated, complex, rich, challenged places. A major task of this film is to invite people to consider that Hurricane Maria showed up in a context in which Puerto Rico was already under a state of perpetual exploitation, perpetual second-class citizenry, and perpetual dependency on the United States. To try and understand this hurricane only through, say, a meteorological lens, is going to miss a huge part of the picture because it's not just trying to understand what caused this storm, it's also trying to understand who stands to make money after this storm. Who wants to put conditions on the recovery aid and why do they want to do that? You can't talk about the hurricane without talking about the financial crisis that Puerto Rico was already in—an unpayable, 72 billion-dollar, illegal debt. It requires an interdisciplinary approach to understand the emotional, economic toll, and the uphill climb that Puerto Rico has to have in order to have a just recovery.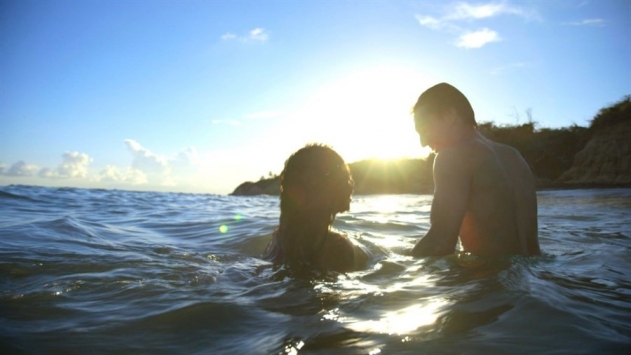 S&F: How did the process of making LANDFALL change the way that you related to the situation that Puerto Rico was already in?
CA: I'm Puerto Rican but I'm from the diaspora—my parents left right before I was born. My grandmother died after the hurricane, so it was a very personal thing that drove me to make the film. One of the things climate change causes is migration.
S&F: And that's also one of the causes of climate change.
CA: Yeah, exactly, that's the interpenetration of these issues. So the increase in migration that Puerto Rico experienced after the hurricane, it was an acceleration of forces that led even my own parents to leave. But one of the consequences of migration is a breakdown in the social fabric of a culture, where over time people are less connected to a place and there are patches of ignorance.
Puerto Rican history writ large is generally buried; when you study Puerto Rico even in Puerto Rico you get a very white-washed version of history. As someone from the outside, there was so much I didn't know. Before the hurricane I was aware of the economic crisis because I could see the signs, but I was no expert. There were a lot of symptoms of things going wrong that I didn't understand.
There's a motif in the film of a map, and the film populates the map as you go, and in many ways that map mirrors my own personal journey in making the film. I spent more time in places that I'd never spent that much time in, because my visits were always tied to family. I think that's been a major part of my own journey that I hope is actually manifest in the film itself—that it becomes an opportunity for a viewer to arrive at a much more nuanced understanding of the conditions at work in Puerto Rico and the colonial history.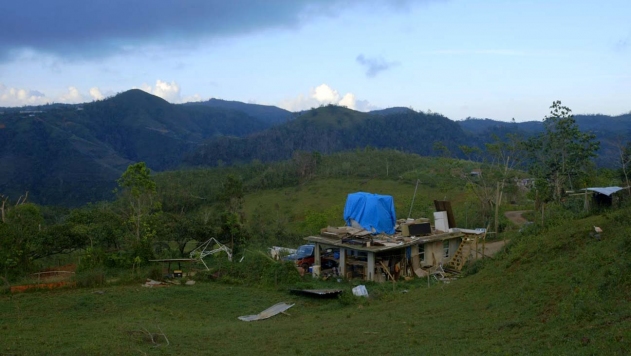 S&F: What was the editing process of interweaving the historical footage?
CA: The editor of the film Terra [Long] and I, one of the principles that we had while editing was, this is an old story. Especially when you have seismic, weather-related events, there's a presumption that it's never happened before. What we were trying to do in exploring the history was to demonstrate that part of what was already underway in Puerto Rico was a U.S.-led economic experiment that the hurricane only intensified. So that was a big goal in doing some history work in the film.
S&F: Watching your film as the current pandemic and the Black Lives Matter movement are unfolding, there seems to be a lot that could be extrapolated and hopefully learned from, and I wonder what parallels you see?
CA: You could say that COVID-19 is a scientific, health-related phenomenon—a pandemic that can be studied by scientists, full stop. But I don't think that would even begin to scratch the surface of ethical questions about this seismic catastrophe. It would not be able to help us answer moral questions about who gets to live and who gets to die; that's literally what people are asking right now—who are the sacrificial lambs of this pandemic, whether it's our elders, Black or brown people, essential workers. There is a whole slew of lives being offered up, and that's not entirely a scientific question.
One of the things we're seeing in this country right now is epidemiologists being thrust into a highly politicized situation. The science isn't necessarily going to be a roadmap for a just, ethical, and fair way through this crisis. That goes to a different realm. I've been saying since I started making LANDFALL that everyone should study Puerto Rico, not just Puerto Ricans.
Often films about people of color and from marginal communities, the idea is that that's your audience—of course Puerto Rico is my main audience for this film but it's also for anybody who wants to understand the mechanisms of disaster and recovery. I've been saying all along that if you want to understand the forces at work in our current society, the question of who is hoarding wealth in our country, who is sitting safely on their perch and making money during this horrific time, it's all there in this little archipelago in the Caribbean. You can understand the intersection of climate change, finance capitalism, gentrification, and migration—it's all there for you to see if you spend a little time studying [Puerto Rico]. So I think there's a profound opportunity for studying this film in this very moment. Right now, we have a lot of people saying, we can't lock down in this way, we have to reopen our economy willy-nilly, we can't provide funding for unemployed Americans, we're going to try to get them back to work so we can kick them off unemployment. These are not facts, these are policies; this is an agenda to meet this moment with profit-driven models. I think there are a lot of people who would disagree with that recovery [plan].
In Puerto Rico there has been an incredible, robust movement of resistance, of people saying, austerity is not the answer. That's where we're heading in the U.S. broadly—we're heading for austerity. They are going to be dismantling our education systems, our health systems. This is one of the things that's been hard about this moment affecting my film's rollout. The film was supposed to premiere at the Tribeca Film Festival right before the pandemic hit. We've been moving ahead in virtual ways, but it's been so hard having a film that feels so pertinent to this moment but that isn't necessarily widely visible. Luckily, we are going to be airing the film next year on PBS's POV series, so there will be an opportunity for everyone to see it for free—that is a really important and exciting avenue available to us.
♦
Cecilia Aldarondo is a 2019 Guggenheim Fellow, two-time MacDowell Colony Fellow, and a 2017 Women at Sundance Fellow. LANDFALL is directed and produced by Aldarondo, produced by Ines Hofmann Kanna, Lale Namerrow Pastor was Associate Producer, it was edited by Terra Long, and filmed by Pablo Alvarez-Mesa. LANDFALL will premiere on PBS in 2021.