Preview Of Science Films At The Berlinale 2020
The 70th Berlin International Film takes place from February 20 through March 1, and will feature 22 science or technology-related works as part of its approximately 400 film program. Sloan Science & Film will be there to provide coverage.
What follows is a list of the 22 works with descriptions quoted from the Berlinale.
In the Forum: Viera Čákanyová's documentary FREM, "a poetic examination of imaging processes, and a science fiction film in one; with insistent radicality, it weaves together the imaginative realms of art and research, reality and fiction, depiction and the depicted."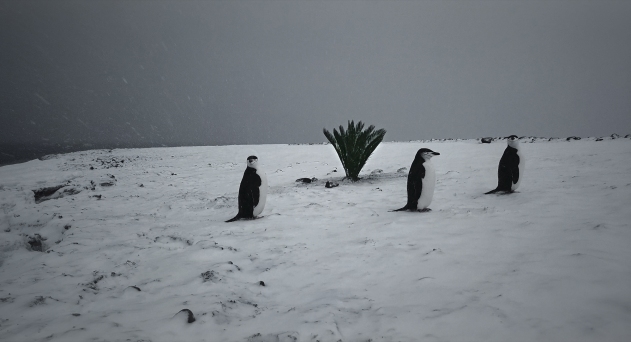 FREM. © Hypermarket Film
Kazuhiro Soda's documentary SEISHIN 0 (ZERO), which follows a psychiatrist who "receives his patients for the last time."
The world premiere of Joshua Bonnetta's documentary THE TWO SIGHTS, set on the Outer Hebrides "which survey all this ravishing landscape contains, taking in its rocky cliffs, beaches and plains, alighting on its flora and fauna and the houses and ships sprinkled over it."
The world premiere of Sarah Francis's AS ABOVE SO BELOW, a "hushed, pared-down essay [that] weaves together different facts and myths surrounding the moon: images, texts, and sounds are spun into a dense, delicate tissue of ideas, with humans both at the centre and infinitely small in this celestial context."
In Forum Expanded: the world premiere of Jenny Perlin's short documentary DOUBLEWIDE, "a portrait of a Texas-based company that sells, constructs, and installs custom-made, secure steel subterranean hideouts for wealthy clients."
The world premiere of Ernst Karel and Veronika Kusumaryati's documentary EXPEDITION CONTENT, "constructed from the audio archive of the 1961 Harvard Peabody Expedition to Netherlands New Guinea."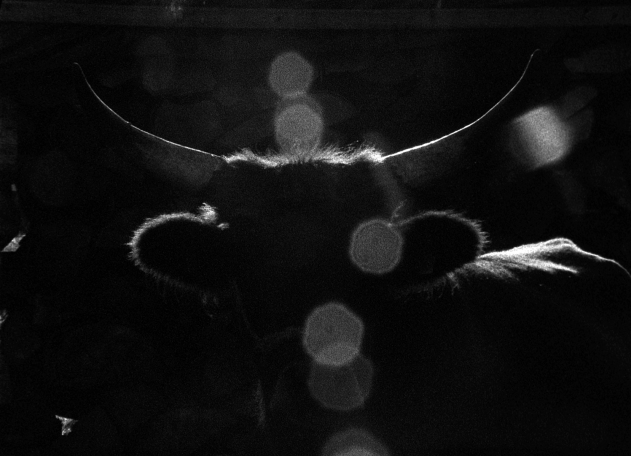 HER NAME WAS EUROPA. © OJOBOCA GbR
The world premiere of Anja Dornieden and Juan David González Monroy's docuemtnary HER NAME WAS EUROPA, about the wild ancestor of modern cattle the Aurochs, the first documented species to go extinct.
In Competition: The world premiere of DAU. NATASHA, written and directed by Ilya Khrzhanovskiy and Jekaterina Oertel, set in a secret Soviet research institute and adapted from the DAU large-scale simulation project set in the totalitarian regime under Stalin.

Natalia Berezhnaya, Luc Bigé, and Olga Shkabarnya in DAU. NATASHA. © Phenomen Film
The world premiere of DELETE HISTORY, written and directed by Benoît Delépine and Gustave Kervern, in which "three neighbours come to terms with the consequences of the new world of social media."
In Panorama: The world premiere of SEMINA IL VENTO (SOW THE WIND), written and directed by Danilo Caputo, which follows a "student agronomist, [who] returns to her parents' home in the south of Italy after a long absence. She is deeply attached to her grandmother's land and its centuries-old olive trees, which have not borne fruit for three years. They are infested with insects which no pesticide has so far been able to eradicate."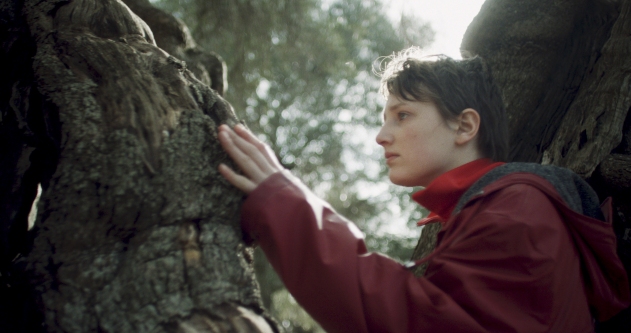 Yile Yara Vianello in SOW THE WIND. © JbaOkta
In Panorama Dokumente: the world premiere of Andrey Gryazev's documentary KOTLOVAN (THE FOUNDATION PIT), "a found footage film compiled from countless YouTube videos in which the people of Russia make a direct appeal to president Putin."
The world premiere of Fernando Segtowick's documentary O REFLEXO DO LAGO (AMAZON MIRROR), which follows "the people who live near one of the world's largest hydroelectric plants in Amazonia."
The world premiere of Bettina Böhler's documentary SCHLINGENSIEF – IN DAS SCHWEIGEN HINEINSCHREIEN (A VOICE THAT SHOOK THE SILENCE), which uses "unpublished and newly digitalised archive footage and film material" to tell the story of late artist Christoph Schlingensief.
In Berlinale Series: The world premiere of the first three episodes of the series FREUD, directed by Marvin Kren, based on the life and work of Sigmund Freud during a time in which "his peculiar concept of the unconscious and his use of hypnosis draws ridicule and sees him marginalized by the medical establishment."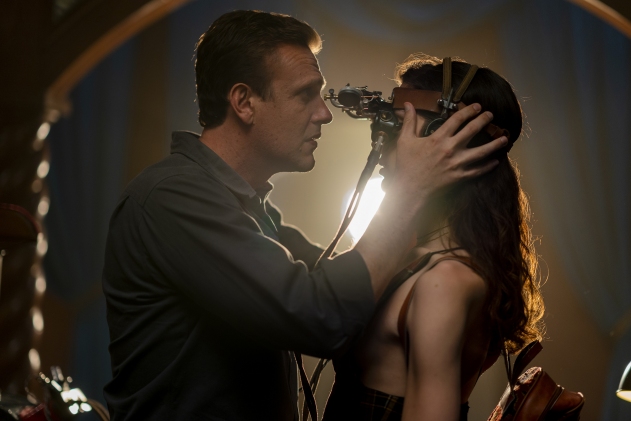 Jason Segel and Eve Lindley in DISPATCHES FROM ELSEWHERE. © 2019 AMC Film Holdings LLC. All Rights Reserved.
The world premiere of Jason Segel's anthology series DISPATCHES FROM ELSEWHERE, in which "a chain of strange coincidences leads computer scientist Peter to the mysterious Jejune Institute. Its charismatic director Octavio promises Peter a way out of the invisibility and quiet desperation of his everyday life, offering him instead the gateway to a life full of magic, beauty and 'divine nonchalance.' Peter plays along. But is this really a game? Is it an alternative reality? Or a conspiracy making a bid for social control?"
In Perspektive Deutsches Kino: Jonas Heldt's documentary AUTOMOTIVE will make its world premiere. The film questions "the value of work in the age of the digital revolution," following two employees of car companies.
In the Berlinale Special Gala: the world premiere of Agnieskza Holland's new feature CHARLATAN, based on the life of Czech healer Jan Mikolášek (1889–1973).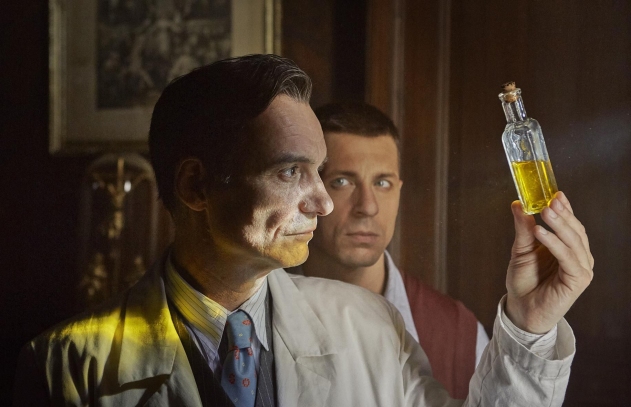 Ivan Trojan and Juraj Loj in CHARLATAN. © Marlene Film Production
The world premiere of MINAMATA, directed by Andrew Levitas, starring Johnny Depp as "celebrated war photographer W. Eugene Smith in a real-life David versus Goliath story, pitting Smith against a powerful corporation responsible for poisoning with mercury the people of Minamata in Japan in 1971."
In Berlinale Special: The world premiere of DAU. DEGENERATSIA, written and directed by Ilya Khrzhanovskiy and Jekaterina Oertel, set in a secret Soviet research institute and adapted from the DAU large-scale simulation project set in the totalitarian regime under Stalin. "On his last legs, the protagonist DAU, a theoretical physicist like his role model Lev Landau, is obliged to look on as upheavals bring forth a steady stream of new institute directors."
In Encounters: The world premiere of Sandra Wollner's feature THE TROUBLE WITH BEING BORN, which centers on "Ten-year-old Elli [who] is an android. She loves the man she calls 'Daddy' and is the vessel for his memories, which mean nothing to her, but everything to him."
The world premiere of Victor Kossakovsky's documentary GUNDA, "one of several hundred million pigs that inhabit the planet, alongside a billion cattle, represented in the film by two gracefully mooing cows, and over 20 billion chickens, exemplified here by a one-legged chicken stumbling its way through the world. Whether rooting through the mud, swatting away flies or searching for worms, they all are heroes. And film essayist Victor Kossakovsky is and remains adamant: after this film meat consumption is impossible."
In Generation 14plus: Niki Lindroth von Bahr's animated short film SOMETHING TO REMEMBER, in which "a band of weird animals leads us from room to room, through the present and the future."
Stay tuned to Science & Film for coverage of these works.
Cover image: Philipp Hochmair, Ella Rumpf, and Anja Kling in FREUD. © Jan Hromadko/SATEL Film GmbH/Bavaria Fiction GmbH.