Preview Of Science Films At TIFF
The Toronto International Film Festival (TIFF), one of the world's biggest film festivals, will take place September 5-15 and feature 28 science or technology-related films. We will be there to provide coverage. Below is a preview of those films with descriptions quoted from the TIFF catalogue.
Narrative Features:
RADIOACTIVE, World Premiere. "Based on Lauren Redniss's award-winning graphic novel, Marjane Satrapi's (PERSEPOLIS) biopic stars Rosamund Pike as two-time Nobel Prize–winning scientist Marie Curie, highlighting the groundbreaking discoveries she made with her husband, Pierre (Sam Riley)."
THE AERONAUTS, Canadian Premiere. "THE THEORY OF EVERYTHING costars Eddie Redmayne and Felicity Jones reunite for Tom Harper's high-flying tale about a 19th-century scientist and hot-air balloonist making altitudinal and meteorological history."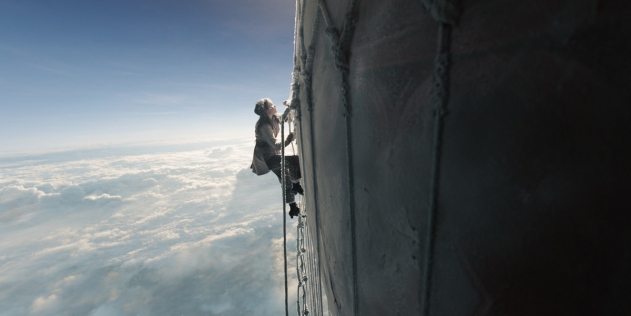 THE AERONAUTS
LUCY IN THE SKY, World Premiere. "After returning to earth, an obsessive astronaut (Natalie Portman) begins to question her place in the universe — including her relationships with her gentle husband (Dan Stevens) and her alluring crewmate (Jon Hamm) — in the debut feature from accomplished television showrunner Noah Hawley (FARGO, LEGION)."
PROXIMA, World Premiere. "Alice Winocour (DISORDER, AUGUSTINE) builds on her meticulously crafted body of work with this incisive drama, in which an astronaut and mother (Eva Green) grapples with her commitment to her daughter as she undergoes gruelling physical training for a one-year stint in space."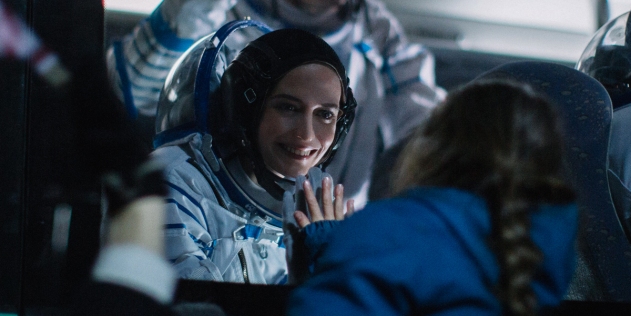 PROXIMA
FORD V FERRARI, Canadian Premiere. "James Mangold (3:10 TO YUMA) directs Matt Damon and Christian Bale in this high-speed biographical drama that pits an underdog team of American automotive engineers against Ferrari in the 1966 '24 Hours of Le Mans' endurance race."
LA BELLE ÉPOQUE, North American Premiere. "In this high-concept comedy from Nicolas Bedos (MR. & MRS. ADELMAN), a luddite cartoonist suffering an existential crisis hires a VR company to recreate a happier time in his marriage, as he tries to reconcile the golden-hued past with an inescapable digital present."
THE ANTENNA, World Premiere. "The inhabitants of an apartment building are caught in a living nightmare when a radical, new communications technology goes horribly awry, in Orçun Behram's frightening and visceral feature debut."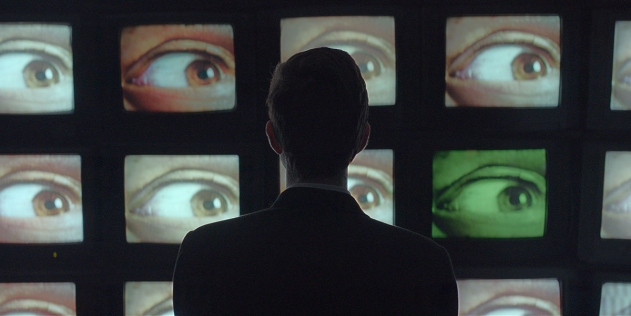 THE ANTENNA
THE WHISTLERS, North American Premiere. "In this neo-noir tale from Romanian auteur Corneliu Porumboiu (POLICE, ADJECTIVE, 12:08 EAST OF BUCHAREST), a corrupt cop — under surveillance while participating in a mob plot in the Canary Islands — must communicate with his accomplices in an Indigenous language based on whistling."
GUNS AKIMBO, World Premiere. "A nerdy video game developer (Daniel Radcliffe) becomes the next contestant in an illegal live-streamed death match, in this hilariously dark, viciously violent, and chillingly prescient sci-fi thriller."

GUNS AKIMBO
THOSE THAT, AT A DISTANCE, RESEMBLE ANOTHER, North American Premiere. "Artist-filmmaker Jessica Sarah Rinland's sumptuous, hypnotic new work tracks the production of a lab-engineered elephant tusk, in a reflection on conservation, fabrication, and authenticity."
BLOOD QUANTUM, World Premiere. "Jeff Barnaby's astutely titled second feature is equal parts horror and pointed cultural critique. Zombies are devouring the world, yet an isolated Mi'gmaq community is immune to the plague. Do they offer refuge to the denizens outside their reserve or not?"
SEA FEVER, World Premiere. "A bizarre creature hitches a ride on a departing trawler, in this masterful genre film from Irish filmmaker Neasa Hardiman that leverages the mysteries of the sea to amplify the potential horrors of the unknown."
COLOR OUT OF SPACE, World Premiere. "In director Richard Stanley's adaptation of H.P. Lovecraft's classic horror short story, a meteor falls to earth and lands on the property of a New England family — its increasingly unhinged patriarch played by the one-and-only Nicolas Cage — with insidious, delirious, and psychedelic results."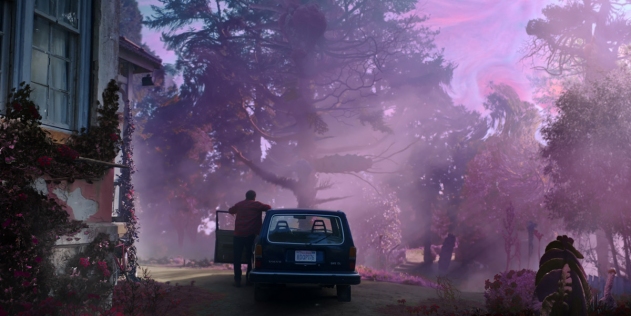 COLOR OUT OF SPACE
ENTWINED, World Premiere. "Minos Nikolakakis' enchanting, mystical debut tells the story of Panos, a doctor from the city who relocates to a remote village where he meets a spirit who will change his life forever."
LOVE ME TENDER, International Premiere. "Seconda (Barbara Giordano) has acute agoraphobia and is confined to her family apartment — until her routine suddenly changes and she is forced to fight for her independence, in Klaudia Reynicke's gripping second feature."
SYNCHRONIC, World Premiere. "New Orleans paramedics Steve (Anthony Mackie) and Dennis (Jamie Dornan) stumble upon a bizarre plot involving a series of drug-related deaths, in Justin Benson and Aaron Moorhead's (SPRING, THE ENDLESS) stylish and genre-bending new film."
Documentaries:
THERE'S SOMETHING IN THE WATER, World Premiere. "Ellen Page brings attention to the injustices and injuries caused by environmental racism in her home province, in this urgent documentary on Indigenous and African Nova Scotian women fighting to protect their communities, their land, and their futures."
AND WE GO GREEN, World Premiere. "Professional drivers on the international Formula E circuit — like Formula One, but with eco-friendly electric cars — race for victory across 10 cities, in this white-knuckle documentary from filmmaker Malcolm Venville, Oscar-winning director Fisher Stevens (THE COVE), and producer Leonardo DiCaprio."
SING ME A SONG, World Premiere. "As the Internet finally arrives in tiny Bhutan, documentarian Thomas Balmès is there to witness its transformative impact on a young Buddhist monk whose initial trepidation gives way to profound engagement with the technology."
SaF05, North American Premiere. "Turner Prize–winning artist-filmmaker Charlotte Prodger deftly blends the scientific with the diaristic, as the hunt for a rare maned lioness structures a personal reflection on queer desire and mobility."
Short and mid-length films:
PLEASE SPEAK CONTINUOUSLY AND DESCRIBE YOUR EXPERIENCES AS THEY COME TO YOU, North American Premiere. "A psychiatric patient with a brain implant that allows her to relive her dreams finds her reality being encroached upon in unappetizing and surreal ways, in Brandon Cronenberg's psychedelically retro thriller."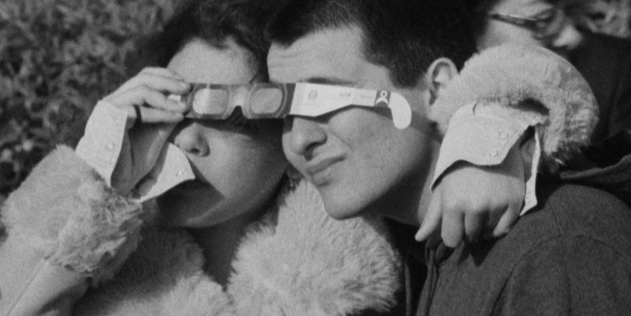 BLACK SUN
BLACK SUN, International Premiere. "Underscored by French film legend Delphine Seyrig's evocative recitation of a Henri Michaux poem, Maureen Fazendeiro's film is a mysterious, multi-textured portrait of eclipse spectators in Portugal."
SUN RAVE, North American Premiere. "Speculating on the impact of a 1989 solar storm, Roy Samaha's film mimics the unpredictable release of energy flares, layering personal histories with major geopolitical events as it shifts from his family's Beirut home to Bucharest, Berlin, and further afield."
THE BITE, World Premiere. "Pedro Neves Marques' speculative short weaves a story of a polyamorous, non-binary relationship struggling to survive an epidemic of genetically modified killer mosquitos."
WHO'S AFRAID OF IDEOLOGY? PART 2, North American Premiere. "A generous and lyrical continuation of Lebanese artist Marwa Arsanios' interest in the ties between ecology, feminism, and collective organization, this documentary showcases the radical politics of a Lebanese farming cooperative and the citizens of Jinwar, a women-only village in the north of Syria."
WE STILL HAVE TO CLOSE OUR EYES, North American Premiere. "John Torres repurposes documentary footage captured from the sets of various Filipino productions (including the likes of Lav Diaz and Erik Matti) into an eerie, elliptical sci-fi narrative about human avatars controlled by apps."
YANDERE, World Premiere. "A miniature AI hologram, Maiko, is programmed to be utterly devoted to her teenage owner. But when he gets a real girlfriend, her passions may prove to be too large for her container, in William Laboury's cunning work of speculative fiction."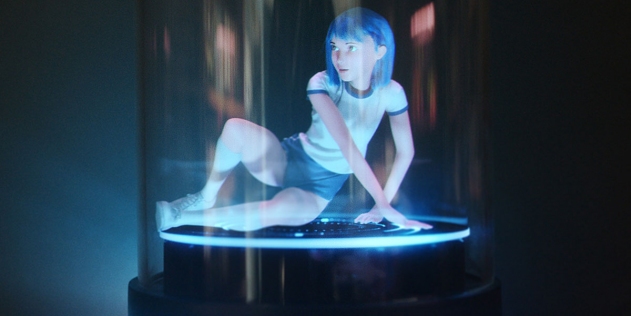 YANDERE
SOMETHING TO REMEMBER, World Premiere. "In the animator's first film since her 2017 IWC Short Cuts Award winner THE BURDEN, Niki Lindroth von Bahr presents another bittersweet look at life's many challenges, albeit as experienced by furry, feathered, and slimy creatures who sound and feel all too human."
Check back on Science & Film for coverage.
All images courtesy of TIFF.