Jeff Goldblum as Lobotomist in The Mountain
Rick Alverson's new film THE MOUNTAIN stars Jeff Goldblum, Tye Sheridan, Hannah Gross, Udo Kier, and Denis Lavant in a story loosely based on the inventor of the lobotomy. Kino Lorber will release the film into theaters on July 26. Alverson said at THE MOUNTAIN's Sundance premiere that at the center of the film there is a character based "on Dr. Walter Freeman who invented the lobotomy, and his fall from grace as Thorazine came on the market."
Set in the 1950s, visually replete with beige and reminiscent of Edward Hopper's paintings, THE MOUNTAIN follows a young man named Andy (Tye Sheridan) who, after the sudden death of his father, accompanies Dr. Wallace Fiennes (Jeff Goldblum) on a road trip across America. The two visit mental institutions where Dr. Fiennes lobotomizes predominantly female patients.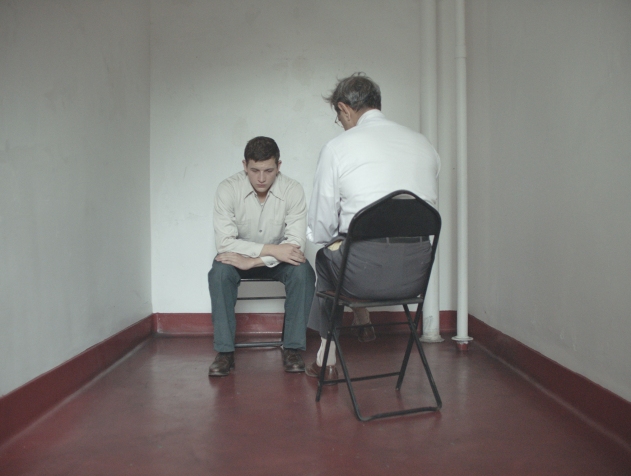 THE MOUNTAIN takes inspiration from the later years of the American neurologist Walter Freeman's practice when he performed transorbital lobotomies. His most famous patient was John F. Kennedy's sister Rosemary Kennedy, who was incapacitated and instutionalized thereafter. Freeman's method was to access a patient's brain through the eye, rather than drilling directly into the skull. He used electroshocks to render the patient unconscious, and then performed the surgery in under ten minutes. As detailed by James Caruso and Jason Sheehan in a 2017 article in Neurosurgical Focus titled "Psychosurgery, ethics, and media: a history of Walter Freeman and the lobotomy," Freeman used an icepick-shaped rod called an orbitoclast which he taped into the space between the eye socket and the skull to access the frontal lobe of the brain, where the rod could destroy the brain's frontal lobe tissue. This procedure often left patients in vegetative states. In the film, administrators of institutions begin to turn Dr. Fiennes away because the anti-psychotic drug Chlorapromazine had been invented which presented a "more humane" treatment option.
In THE MOUNTAIN, Goldblum's Dr. Wallace Fiennes does not present as the reliable, focused doctor one wants a neurosurgeon to be. Rather, he is a drunk and a womanizer who enjoys being the center of attention. He advises Tye Sheridan's character Andy on how to take portraits of patients before and after surgery; "We help them. And then we take their picture," he says in the film.
"I like to think of it as an anti-utopian film" Alverson said to audiences at Sundance. He continued, "through cinema and television there are a lot of aspirational tales that end with this sort of embedded hope that I think is really necessary in some societies. But in a profoundly, disproportionately privileged society like we have in the States, these can become not just redundant but dangerous. So I think the film sort of works against that."
THE MOUNTAIN will open in theaters on July 26, beginning with IFC Center in New York and the Landmark Nuart Theatre in Los Angeles. It is written and directed by Rick Alverson, and co-written by Dustin Guy Defa and Colm O'Leary.
All images courtesy Kino Lorber.