Preview of Science Films at CPH:DOX
The annual Copenhagen International Documentary Film Festival (CPH:DOX) will convene March 20-31, 2019. This year's program features 200 new films incorporating a variety of themes, including science. Thirty-two out of the 200 films are science-related. Here is a preview of those 32 works—feature, short, and immersive—with descriptions quoted from the Festival programmers. Sloan Science & Film will be providing coverage at the Festival and participating in the CPH:FORUM.
Documentary Feature:
Pierre-Emmanuel Le Goff's documentary 16 SUNRISES follows French astronaut Thomas Pesquet's six month long journey on the International Space Station. With both "epic and poetic depiction of everyday life among astronauts," this film delineates the complexities and logistics of the International Space Station's operations, which is described as "an international semi-utopian project, in both theory and practice, with all the countries in the world contributing."
Narrated by comedian Stephen Fry, Jeppe Rønde's 46-minute film ALMOST HUMAN "speaks to all humanity, while the film calmly leads us through our own history, and that of technology." In the film, scientists, philosophers, and programmers demonstrate the interconnectedness of the self and technology and "show us through their thought experiments that our relationship with technology is just as much about our relationship with ourselves."

ALMOST HUMAN
Activist Arthur Pratt's SURVIVORS is a documentary about the Sierra Leone's Ebola outbreak in 2014, and "a unique testimony from right inside the outbreak."
SEA OF SHADOWS, directed by Richard Ladkani, focuses on the black market that has formed around the Totoaba—a fish with a swim bladder worth up to 100,000 dollars on China's black market.
German director Michael Wech's documentary RESISTANCE FIGHTERS examines increasing cases of antiobiotic-resistent bacteria, which cause over 700,000 deaths worldwide. The film is described as "a thriller about stupidity and short-sighted greed, but also about disillusioned doctors, rebellious scientists, dying patients and diplomats who are fighting against time to find a global solution—all on a battlefield of conflicting interests."
Alex Gibney's HBO documentary THE INVENTOR: OUT FOR BLOOD IN SILICON VALLEY investigates how Elizabeth Holmes founded the medical diagnostic company Theranos and perpetrated a scam that caused an enormous amount of harm.
THE LAST MALE ON EARTH is about the last surviving male northern white rhino, named Sudan. Director Floor van der Meulen balances "the many parallel narratives of the rhinoceros Sudan's last days."
Nicolas Brown's THE SERENGETI RULES is based on biologist Sean B. Carroll's 2017 book about the balanced functioning of an ecosystem.
THREE IDENTICAL STRANGERS, directed by Tim Wardle, presents the story of triplets who were separated from each other at birth and reunited after two decades because of a random encounter. For more on the film's subject, read our "Peer Review" article.
TRUST MACHINE: THE STORY OF BLOCKCHAIN, directed by Alex Winter, explores the ever evolving world of blockchain and bitcoin and the possibilities for the technology to be applied to help decentralize the internet.
In Phie Ambo's REDISCOVERY, "47 children are set free for 10 weeks on an overgrown building site in the middle of Copenhagen. In a democratic experiment, they are tasked with establishing a new society out of nothing. And they have to do so by talking and playing their way into new ways of doing things."
Alex Holmes's MAIDEN tells the story of 24-year-old Tracy Edwards who, in the late 1980s, "proclaimed that she would take part in the world's toughest sailing competition, the Whitbread Round the World Race, with an exclusively female crew."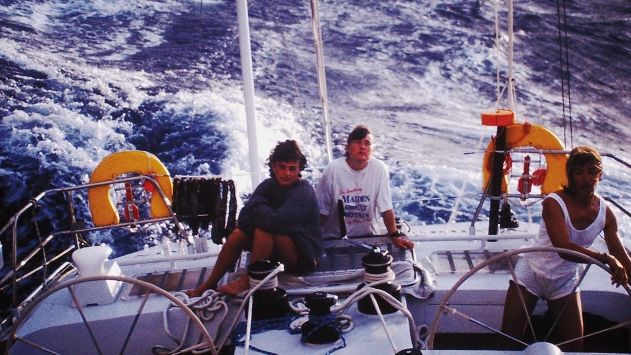 MAIDEN
In JAWLINE, director Liza Mandelup presents the story of 16-year-old Austyn, a YouTube star and online influencer based in rural Tennessee.
ALMOST NOTHING, directed by Anna de Manincor, "is a visually magnificent and understatedly witty access pass to all corners of CERN. The world's largest physics laboratory is also a society in itself."
Lithuanian filmmaker Aiste Zegulyte's ANIMUS ANIMALIS "observes a taxidermist, a deer farmer and a museum curator at work. Three jobs that have one thing in common: turning animals into aesthetic objects, alive as well as dead."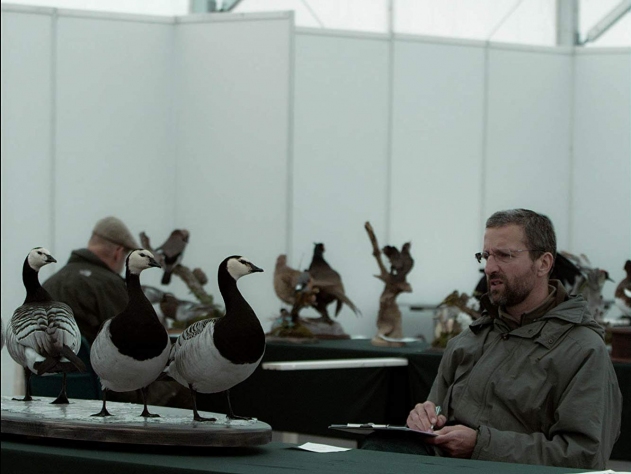 ANIMUS ANIMALIS
ANTHROPOCENE: THE HUMAN EPOCH, directed by photographer Edward Burtynsky and filmmakers Jennifer Baichwal and Nicolas de Pencier, is a film and also part of a larger art and publishing project that "calls for action and a change of course towards a sustainable future, before it's too late."
ASSHOLES: A THEORY, directed by John Walker, is an adaptation of philosopher Aaron James's bestseller of the same name. The film presents "a number of people (including John Cleese in top form) who have asshole experiences of both tragic and comic kinds."
CHARISMATIC MEGAFAUNA, by Swedish filmmakers Jesper Kurlandsky and Fredrik Wenzel, "is intended as a liberating and sensory experience, based on thorough research and scientific studies of life in hypermodernity."
Steve Brown and Timothy Wheeler's CHASING EINSTEIN "follows leading scientists at the largest particle accelerator (CERN), the largest underground labs (XENON), the largest telescope arrays, and the LIGO gravitational wave detector to find out whether Einstein's theory of relativity, as it passes its 100th birthday, stands the test of time."
Adam Bolt's HUMAN NATURE explores "the powerful new tool, CRISPR, [which] gives scientists a whole new technology to edit DNA with unprecedented ease and precision."
HUNTING FOR HEDONIA, directed by by Pernille Rose Grønkjær, examines the development of Deep Brain Stimulation and the capacity of present day technology to increase human happiness.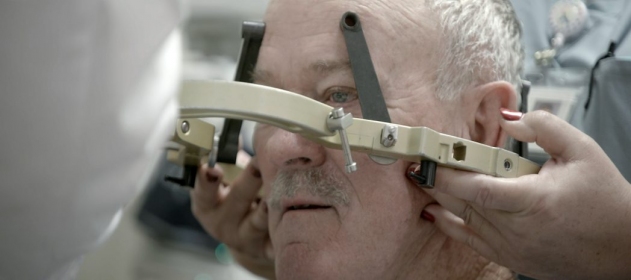 HUNTING FOR HEDONIA
HI, AI, by Isa Willinger, explores the coexistence of humans and robots.
Sarah J Christman's SWARM SEASON is set in Hawii and "draws fascinating parallels between the micro- and macrocosm, and challenges our understanding of nature, the world and ourselves."
Documentary Shorts:
In SHED A LIGHT, artist Laure Prouvost showcases "a forgotten, dystopian biological laboratory in a garden behind a factory building."
Arash Nassiri's DARWIN DARWAH is a blue/red 3D film which "presents a parallel story of internet myths, which try to rewrite evolutionary history according to their own beliefs."
Ezekiel Morgan's unnamed film shows "an octopus, a washing machine, a hacked 360 degree camera, and a subsonic noise film on an intergalactic scale."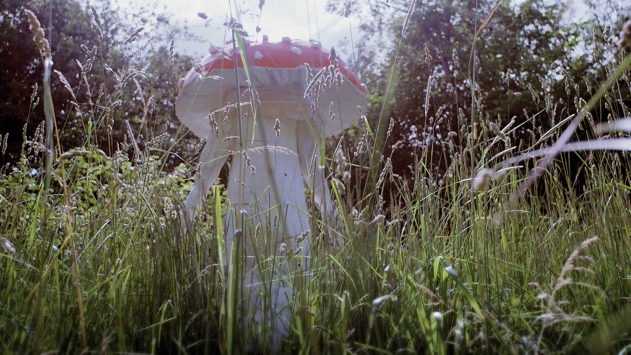 WESTERN RAMPART
The artist collective SUPERFLEX's short WESTERN RAMPART is a nature film set in Copenhagen in an unfinished 19th century structure called Vestvolden that was meant to protect against invasions.
Narrative Feature:
This year, CPH: DOX has a new program section for fiction films called "Fiction for Real" that includes 11 feature films which reflect in some way on the contemporary world.
JESSICA FOREVER, Caroline Poggi and Jonathan Vinel's directorial debut, is set in the "not-so-distant future, where orphaned boys are judged to be lawless by an invisible and inhuman government. They are fair game, and are willing to kill in order not to be killed themselves, and they would have no hope in the future—if it wasn't for Jessica."
Interactive:
SPHERES, by Sloan-supported filmmaker Eliza McNitt, is a three-chapter virtual reality journey which "uncovers the hidden songs of the cosmos." Produced by Darren Aronofsky, SPHERES "takes you to the solar system, black holes and the Big Bang" with narration by Millie Bobby Brown, Jessica Chastain and Patti Smith.
Jakob Kudsk Steensen's virtual reality project RE-ANIMATED is the result of the director's in depth study of the extinct Kaua'i õ'õ bird. Using 3D scans of the flora and fauna of the island, and stuffed speciemns from the American Museum of Natural History, Steensen "brings back to life the Kaua'i õ'õ-bird, which went extinct in 1987."
Yuval Orr's HAND IN HAND is a augmented reality experience "sends you to a near future, where robots and artificial intelligence have taken over everyone's jobs, while you receive a basic income."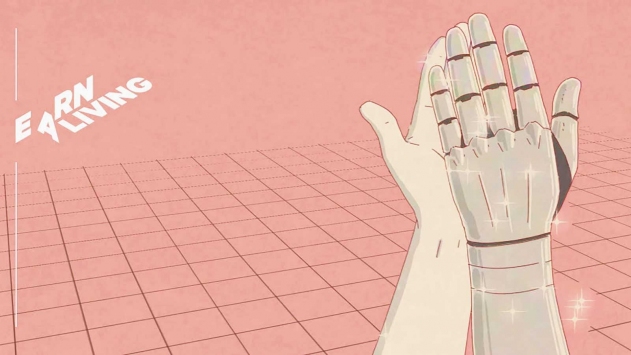 HAND IN HAND
Episodic:
Chris Marker's 1989 13-part series THE OWL'S LEGACY presents Ancient Greece, each episode dedicated to a single concept including mathematics and logic
CPH:DOX begins on March 20 in Copenhagen and rus through March 31. Sloan Science & Film Executive Editor Sonia Epstein will be covering the festival in person and participating in the CPH:FORUM.