Ross Kauffman On New Doc TIGERLAND
In his new documenatry TIGERLAND, Academy Award-winning director Ross Kauffman (BORN INTO BROTHELS) follows two people devoted to saving tigers from exctinction. The activists are working half century apart in time and on different continents, but are equally devoted to guarding the species—fewer than 4,000 wild tigers remain today. The film made its world premiere in the U.S. Documentary Competition program at Sundance, and will premiere on Discovery on March 30. Produced by RadicalMedia and Fisher Stevens (THE COVE), TIGERLAND was commissioned by Discovery Inc. and the World Wildlife Fund's Project C.A.T. initiative, which aims to double the population of wild tigers by 2022. We spoke with Kauffman in person at Sundance.
Science & Film: I understand that Discovery approached you about making this film. How did you decide how you wanted to tell the story?
Ross Kauffman: Fisher Stevens, RadicalMedia, and Discovery had development money for a documentary about tigers. They reached out to me and asked me if I had any interest, and if I did, if I could come up with some ideas about how I would approach it. My immediate gut reaction was, why are you asking me to do a film about tigers? Because that's not what I've ever done; I do human rights issues and other issues that are much more character-based.
I went home, talked to my wife about it, and she said that I should think about it. Then, I was with my son, who was six years old at the time, and he started playing with cut out tigers, telling me all about tigers. He told me, we have to be careful because tigers are going to go down to zero and we can't let that happen.
S&F: Your son knew that?
RK: Yeah, it was really interesting. This was before I was even talking about the film. So right there I had this idea, what if we made a film not about poaching and the destruction of the animal, but we made a film about the beauty, the majesty, the magical quality, and the reverence that we have for the tiger? And that was the jumping off point.
S&F: How did your relationship to the tiger change over the course of filming, if it did?
RK: I love seeing animals in the wild. I've been to India before. I've been to Ranthambore, which is tiger reserve. I really love animals, but I never had much of a relationship to them other than to my dog when I was young. But starting this film, all of a sudden I'm seeing tigers everywhere. And talking to people and saying, I'm doing this film about tigers and [they say] oh my god, I love the tiger. The tiger is loved and revered by so many people around the world and I had no idea; I had no idea that it was so prevalent in different cultures.
S&F: How did you choose the film's characters?
RK: It took a while. We searched far and wide for great characters and people who not are just working with the tiger, but really have this extreme passion for the tiger. So in telling our story of India and Amit Sankhala who, in the 50s, 60s, and 70s made it his mission to try and save the tiger, we felt like that could be our legacy aspect of the film. And then we found a man named Pavel Fomenko. He is a big, burly Russian man who actually has a science background, he used to be a hunter and his passion is saving the tiger. In following two people with such incredible passion, my hope was that—and my hope in general while I'm making movies—if we film people, we get to know these people, and really get to care about these people whose passion is saving the tiger, then the audience will in turn share that passion.
I don't like to make films about issues and I don't like sending messages. I feel like if we tell a great story, we show great characters, and we love those characters, then we can almost trick people into caring.
S&F: Yeah, versus, say, telling all the facts and why a person should care…
RK: Yeah, I hate that. I don't hate facts. I think statistics have their place in movies, but not in this one too much. I put just enough information to ground people.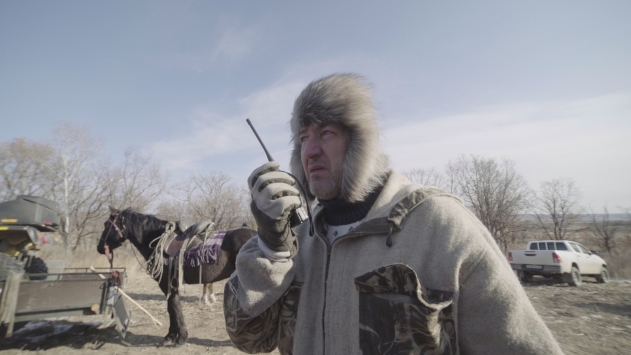 Pavel Fomenko appears in TIGERLAND, Courtesy of Sundance Institute, Photo by Discovery/RadicalMedia
S&F: Did you encounter any resistance to having the camera present while filming?
RK: We didn't come across any resistance per se in filming the people in our film, which is nice in a movie because in other movies I have done there are always people who are angry that you're filming, or they don't want to be filmed. So this was a nice change for me. But there's always that initial period of reticence with the people that you are filming. If there's not that initial period, something's wrong. But we quickly got to know them. We quickly got to know Pavel, we quickly got to know his wife Yulia, and right away, we had a raport. Pavel has a great sense of humor and that comes across in the film. That's really important to me in any movie. If you can get humor in there, get it in because that's how we relate to people.
S&F: This is your third feature. How do you see this fitting into your filmography?
RK: I do not think of this as a nature film. I do not think of this film as an animal rights, animal preservation film. I came to this with the idea of showing stories and creating stories and filming people and getting to know people and understanding their passion. Once again, I don't like to attack the issue and send that message. Of course this is about the tiger, of course this is about saving the tiger, but in terms of movie making, it's about character. People went into the movie yesterday thinking it was one thing, that it was some kind of a nature film, and then came out with this experience saying that they were blown away by.
S&F: How do you know that they had a different experience than what they had expected?
RK: People are telling me this, you know, people are coming up to me on the street and saying, Oh my god, I had no idea that this was a film as opposed to a nature documentary. I'm gonna tell my all my friends about it. And you can also tell from the visceral reaction of an audience—you know when an audience is really in it and when they're not.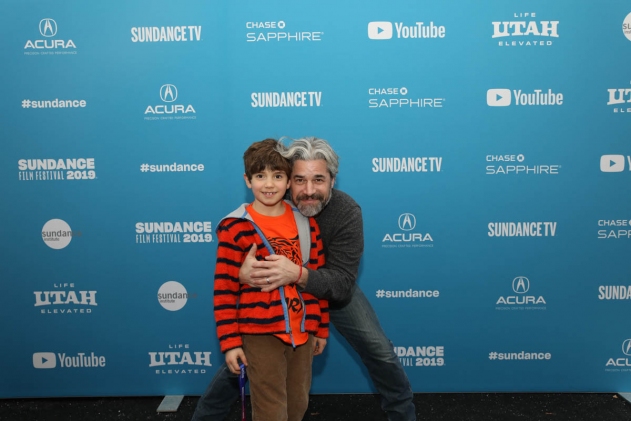 Director Ross Kauffman and son Harry Kauffman at the World Premiere of TIGERLAND, © 2019 Sundance Institute, Photo by Azikiwe Aboagye
TIGERLAND is directed and filmed by Ross Kauffman and produced by Xan Parker, Zara Duffy and Fisher Stevens. Matt Powell was also a cinematographer. The film will be released on Discovery on March 30.