The Inventor By Alex Gibney, Elizabeth Holmes' Scam
Alex Gibney's new documentary THE INVENTOR: OUT FOR BLOOD IN SILICON VALLEY, about Elizabeth Holmes, the founder of Theranos, made its world premiere on January 24 at the Sundance Film Festival and will be released on HBO in March. We attended the film's premiere where Gibney, two of the film's subjects Tyler Schultz and Erika Cheung, and the Wall Street Journal's John Carreyrou spoke with the audience.
Elizabeth Holmes, a 19-year-old college dropout, promised a disruptive engineering innovation in healthcare diagnostics which would result in affordable testing, patient control over their health information, and ultimately better medical treatment with earlier interventions resulting in longer lives. Holmes modeled herself, with black turtlenecks and a deep voice, on Steve Jobs. Moreover, as Gibney said at the premiere, reporters were drawn to that comparison. "Elizabeth took great advantage of a story they want to tell, which is a young female executive in male-dominated Silicon Valley who created her own company and would make it work, and she would be like Steve Jobs." Theranos began processing patient samples in 2013, successfully lobbied Arizona to allow individuals to order their own blood tests without a physician, and partnered with Walgreens. It became a nine billion dollar company.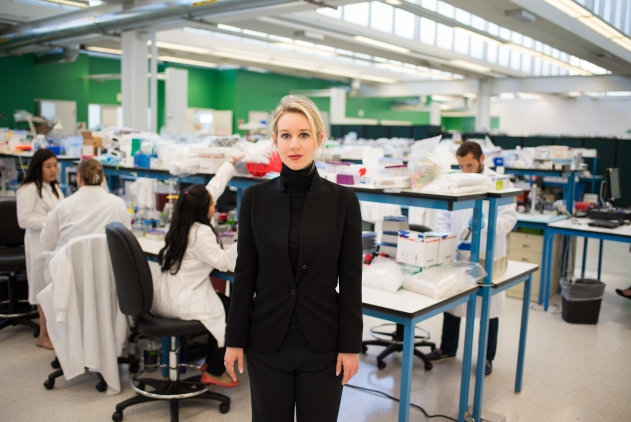 Photo Courtesy of Sundance Institute, Photo by Drew Kelly
As THE INVENTOR unfolds, featuring interviews with whistleblowers, former employees and investors, reporters, and footage of Holmes herself, the scam that Holmes' company Theranos ended up perpetrating is revealed. "I never thought that she was Bernie Madoff in the sense that she was running a scam trying to make a lot of money for herself," Gibney said. "But I also think that this whole idea of the end justifies the means is not necessarily a noble thing. That is a mechanism by which people fool themselves into believing that their wrong means are justified, and that may be far more dangerous than even scamsters." John Carreyrou, who broke the story about how Theranos was faking results and lying about their techniques, and who wrote the book Bad Blood: Secrets and Lies in a Silicon Valley Startup, said, "unfortunately, 'fake it until you make it' is embedded in the DNA of Silicon Valley. If you go back to the '50s it has always been there. [Holmes] took that playbook and applied it to her own startup because she thought it was okay, and she might have gotten away with it in the realm of computers. […] She lost sight of the fact that her product was not hardware or software—it was a medical device—and that people would be making life and death decisions in some cases."
Holmes surrounded herself with powerful men, partnered with top marketing executives, and instituted workplace controls that kept employees from each other. She event got Errol Morris to make Theranos' commercials. The company managed to evade regulators until 2016. By 2018, the company was valued at $0.

Alex Gibney and John Carreyrou at the premiere of THE INVENTOR, © 2019 Sundance Institute, Photo by Weston Bury
THE INVENTOR is written and directed by Alex Gibney, and produced by HBO Documentary Film and Jigsaw Productions. It made its world premiere at the Sundance Film Festival in the Documentary Premieres section. It will be premiere on HBO on March 18, 2019 and be available on HBO On Demand thereafter.