The Physics of Dance, Part One
Particle physicist Sarah Demers and choreographer Emily Coates have been engaged in a multi-year collaboration that has taken a number of forms. They co-teach a class called "The Physics of Dance" at Yale University, made a film together, Demers performed in Coates' Danspace Project performance "A History of Light" in November 2018, and the two co-authored a book that will be released in January 2019. Science & Film spoke separately with each collaborator about how their joint work has impacted their individual pursuits. We spoke with Demers by Skype, when she was in Switzerland at CERN.
Science & Film: What was it like to perform in "A History of Light" at Danspace? Did you draw from your research or teaching, or did performance come naturally?
Sarah Demers: That's a great question. In some ways, I'm used to performing because we have to give a lot of presentations in my field and also in academia in general. I'm happy performing and teaching, but when it turns into acting then that is hard. There are times in the script when Emily wants me to say something in a certain way—that's definitely a challenge. It is also weird to be on a stage where people are conscious of their bodies. In physics, I'm not worried about what I'm wearing or anything like that.
Emily pretty much gives me tasks because she knows that if she gives me an assignment, and I have to follow some plan, then I can follow that. If it were movement in the dance regime I probably would collapse into a shivering puddle in the corner [laughs]. But she knows the extent of my range and I think she pushes me a little bit, but not past the point where I can't get up and do my best. It is a totally different way of being pushed. [It is also] access to a different group than I would normally get to talk to about science. So, it's an adventure.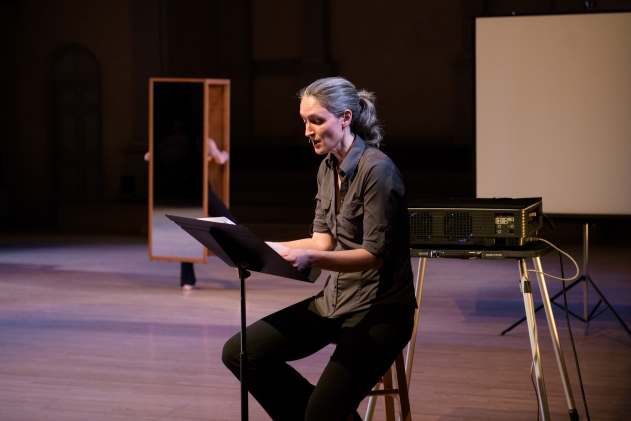 Sarah Demers. Photo Credit: Ian Douglas / courtesy Danspace Project.
S&F: Is there anything you have learned through your collaboration with Emily that you have applied to your academic work?
SD: Definitely it has had an impact. I think it has made me a more careful physicist because the human body is really complicated, so when we're confronting questions that students have in the classroom and looking at basic principles we are trying to apply them to a complicated system. In the first year that we taught, students would ask me a question and boom, I'd have an answer back. Then I'd think, wait a second, that might not be right, let me think about it a little more. And now I'm much more careful and I walk through all the steps with students and we'll work things out together. It teaches them, here is the thought process, how we try to answer that question based on the tools we have access to in physics. I have also become more spatially aware. Emily introduced me to the extent to which I'm using my body in gestures or movements as I'm talking about physics, and I embraced that.
S&F: What form is your collaboration taking right now?
SD: We co-teach a class. We have worked very hard together to try to make it so neither one of our disciplines is always leading. Maybe one time we introduce physics principles first and how they relate to movement, then we'll turn that around the next time and just work with the movement, and then try to see what we can learn about physics through that. What's exciting is that I'm not a dancer and Emily's not a physicist, so everybody in the room is vulnerable in some way and is being pushed in a new direction. I think it makes it so all of us can be a little more adventurous because I might be really intimidated if Emily tells us to try this movement phrase and go across the room in pairs, that might be a hard thing for me to follow through on. But then, in a few minutes, I'm going to be talking about Newton's Third Law, where I'm really happy and comfortable and that's going to be a stretch for some people who are less comfortable using mathematics and applying them to movement scenarios. It's serious, the work that we're doing, but we also laugh a lot.
I think there are a lot of ways to do interdisciplinary work. The best thing that I can do to collaborate effectively with Emily is to be as strong a physicist as I possibly can, from Emily's perspective, the more powerful a choreographer she is, then the stronger our collaboration is. We realized pretty early on that I don't have the talent or time to become a dancer and Emily is not going to continue taking physics classes. We both have our day jobs in our main professions. So we've tried as much as we can to have depth in our disciplines, which I think is good. We developed a manifesto together! It starts out that physics and dance share equal creative and intellectual research power. We admit that you don't need dance for physics to work you don't need physics for dance to work; the fields can work independently. We are not always looking for direct connections between the two fields but often just putting them next to each other and seeing what we gain from that.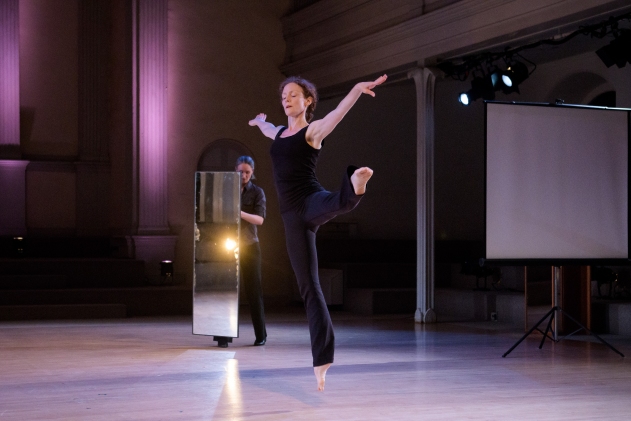 Sarah Demers and Emily Coates. Photo Credit: Ian Douglas / courtesy Danspace Project.
S&F: Is there anything in particular that you have noticed about the kinds of students who take your class?
SD: We are in the luxurious position of having more people interested in the class than we have slots for, so we can ask people to write something really brief about why they want to take the course. What we're looking for in those statements is a student who is dedicated to interdisciplinary learning, or is really curious about it. Our students have been so great. There are pretty rarely physicists or scientists because it's an algebra-based physics class, and if you are a science major at Yale you probably need to take calculus-based physics. However, I would argue that you're going to be approaching physics from such a different perspective—and as I said, the human body is so complicated—that anyone regardless of their physics background is going to learn something deep about physics by trying to look at an interplay between physics and dance. The range of dance experience is very broad. I'm usually the least coordinated person in the room. We like to include at least a few people with choreographic experience. We've had philosophers and historians and theater studies majors. We have had a physics major and chemistry major and both of those people are now in graduate school in their respective disciplines. It's been a huge range.
Sarah Demers is Horace D. Taft Associate Professor of Physics at Yale University. She is a particle physicist who conducts research at CERN, studying the Higgs boson, and Fermilab. Physics and Dance, co-written by Demers and Emily Coates, will be published by Yale University Press on January 22, 2019. On January 17, New York Live Arts will host a reading and book signing with Coates and Demers. The book was supported in part by the Alfred P. Sloan Foundation's program in Public Understanding of Science. Check back soon on Sloan Science & Film for our interview with Emily Coates.