Keir Dullea On Making 2001: A Space Odyssey
Launching its 2018-'19 season of Science on Screen®, Museum of the Moving Image presented a special screening of the celebrated new 70mm print of Stanley Kubrick's 2001: A SPACE ODYSSEY followed by a panel featuring the film's star, Keir Dullea, on October 13. Dullea was joined by his co-star Dan Richter, who plays the man-ape Moonwatcher in the film's opening sequence. Richter also choreographed the opening of the film by spending months studying chimpanzee behavior, including the nature film's of Jane Goodall's then-husband Hugo Van Lawick.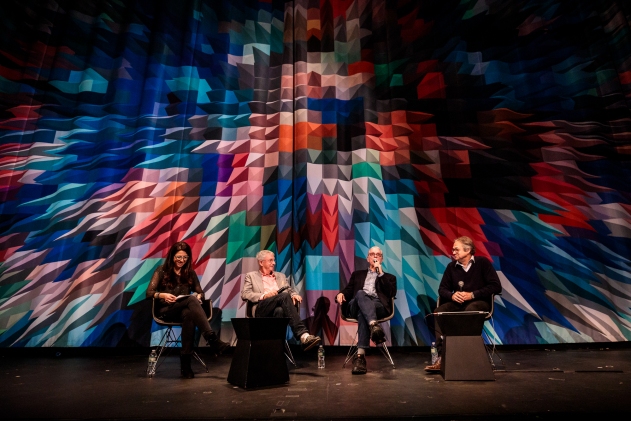 Photo Credit: Sachyn Mital
Richter and Dullea were joined on the panel by historian and author Michael Benson, whose new book Space Odyssey: Stanley Kubrick, Arthur C. Clarke and the Making of a Masterpiece has been called the definitive story of the making of the film. Neuroscientist Heather Berlin moderated the conversation, which focused in part on the film's depiction of artificial intelligence and its prescience. The full conversation is available to watch below.
Science on Screen continues at the Museum on November 4 with a screening of the film adaptation of Eugene Ionesco's play Rhinoceros starring Gene Wilder and Zero Mostel. Playwright Theresa Rebeck (Bernhardt/Hamlet) and political scientist Ester Fuchs (Columbia University), will be in conversation afterwards about the political theories that relate to the film.
Science on Screen is an initiative of the Coolidge Corner Theatre with major support form the Alfred P. Sloan Foundation. Museum of the Moving Image is one of 37 non-profit cinemas that currently has a Science on Screen grant, and the only one in New York City.