PIXELVISION
Fisher-Price, the toy company responsible for Power Wheels and Little People toys, made an attempt at marketing filmmaking to kids in 1987. They launched an unusual new device, called PXL-2000, which was a handheld camcorder almost one-tenth the price of market video cameras. PXL-2000, also called Pixelvision, recorded on standard audiocassette tapes and had a playback function. While Pixelvision failed with its intended market, it succeeded in an unexpected way; it became a favorite technology of avant-garde video artists and filmmakers. A number of remarkable works were created using a Pixelvision camera including Richard Linklater's SLACKER, Sadie Benning's FLAT IS BEAUTIFUL, Michael Almereyda's NADJA, and Cecilia Dougherty's JOE-JOE, all of which Film Society showcased in their summer series "Flat Is Beautiful: The Strange Case of Pixelvision," organized by Programmer at Large Thomas Beard.
Pixelvision was invented by a product design team helmed by James Wickstead. His firm came up with the idea for the camera and took out a number of patents on the technologies that enabled the camera's unique design. They had a consulting relationship with Fisher-Price, which licensed the PXL-2000 that Wickstead Design Associates then engineered and oversaw its manufacturing. Wickstead said in a New York Times interview that the camera's simple monochrome aesthetic was intentional. Inspired by Ingmar Bergman's filmmaking, Wickstead was insistent that the camera record exclusively in black, white, and a few shades of gray. They went so far as to customize the black and white levels. They also designed a specialized lens that gave the camera a uniquely large depth of field. "This lens, coupled with the customized image, provided some additional side-effects which ultimately gave us a very good image," Wickstead said in an interview with Joe Milutis. "So [the Pixelvision image] was planned, but I will tell you the response was not anticipated."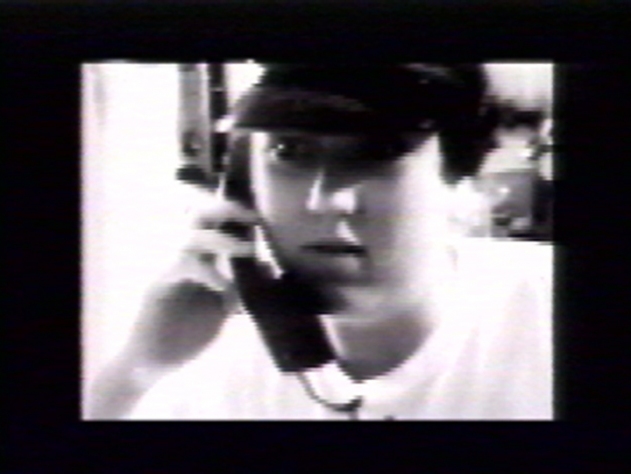 When it went on the market in 1987, the Pixelvision camcorder cost $179–other video cameras of the time typically cost at least $1000. As a Fisher-Price television ad puts it, the camera offered "sight and sound at a price that's easy to handle." Film shot on the PXL-2000 is black-and-white and noticeably low resolution. Because film was recorded on an audiocassette, only a few minutes could be recorded at one time. The camera had playback; recorded film could be viewed through a small, black-and-white monitor sold with the camera, or on a standard television monitor by using an RF modulator. Edits, which could be made on the camera by rewinding the cassette tape, but that created very visible pixelated gashes on the screen.
It turned out that kids were uninterested in shooting grainy, black-and-white, short films. Pixelvision was discontinued within a year. But a limitation for mass markets was an opportunity for filmmakers, who could work with the camera's aesthetic. "The primitive video pixelvision effect is used to empty any given scene of depth and to create a cramped and claustrophobic feel to each frame," author Jack Halberstam said, according to the Film Society's program notes. Referring to Cecilia Dougherty and Leslie Singer's 1993 hour-long film JOE-JOE, Dougherty continues that the "superficiality of pixel works beautifully with the Joe-Joe project because this video is precisely about the multiple layerings of identity and the way that one identity (lesbian) can be simply superimposed upon another (gay) to create a totally altered visual and aesthetic reality." Dougherty pushes Pixelvision's low-tech images by splitting screens, blurring shots, tinting frames, and inverting the monochromatic color scheme.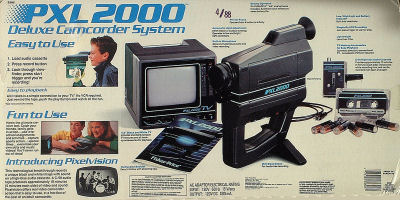 Pixelvision's aesthetic is a result of its unique engineering. Video takes up more bits of data than audio, requiring a wider bandwidth on which to record, so the cassette tape in a Pixelvision camera moves at roughly nine times the speed than when making an audio recording. Because the cassette moves at a higher speed than was intended, the image often deteriorates as it is replayed. The camera shoots a mere 15 frames per second, compared to the industry standard of 24 frames per second. It also shoots at a very low pixel resolution (120x90). By comparison, a standard 720p HD resolution is 1280x720. Pixelvision's lens is miniscule: half the size of a pencil eraser. The effect is "hypnotic," Michael Almereyda said in a New York eTimes article. "Everything is equally out of focus, which means everything's really equally in focus."
During the 1990s, as Pixelvision's cult following grew, video camera technology became cheaper and more accessible. A number of new toy cameras were released, including the Tyco VideoCam TVC 8000, which produced a grainy black and white image that was comparable to Pixelvision.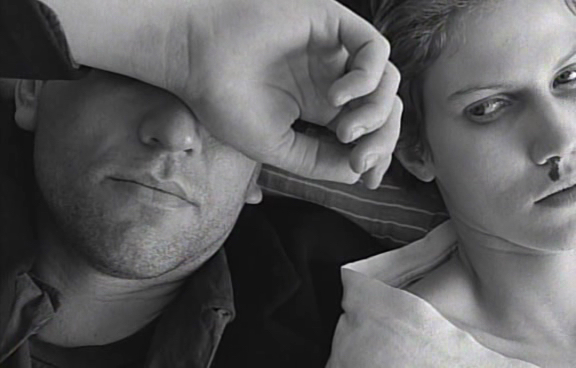 The unique design decisions that led to Pixelvision's aesthetic contributed to its demise as a children's toy, but the camera did not go unappreciated. Film Society's survey shows a "curious, fertile episode of media history," in the midst of a time when technology was rapidly developing and the old was readily tossed out in favor of the new and improved. Working Pixelvision cameras still sell for hundreds of dollars online on eBay, and the Echo Park Film Center recently held the 27th edition of PXL THIS, an annual film festival devoted to films shot on Pixelvision.