The Birth of the Camera Phone
When the Internet was four years old, Philippe Kahn invented a device to instantly share a photo of his newborn girl. It was 1997, and Apple had released one of the first digital cameras into the consumer market just three years earlier. Flip phones were cutting edge. Philippe Kahn was an enterprising French inventor who wanted to develop "a 21st century version of a Polaroid picture," as he put it in a 2012 interview. The 2018 Rooftop Film Festival, in partnership with Mozilla, presented a short film that tells this story called BIRTH OF THE CAMERA PHONE by Jonathan Ignatius Green. The film features on-screen interviews with Kahn, as well as fictionalized scenes that build to the moment when the baby cries and the camera phone shoots.
BIRTH OF THE CAMERA PHONE begins with a young Kahn (played by Dante Gabiati) at home with his wife Sonia Lee (Weny Wang). When her water breaks, it's not a "go bag" he runs for but his Motorola StarTAC flip phone and Toshiba laptop. As Lee goes into labor, Kahn sets up in her hospital room, intending to not only take a picture of their baby but to share it from the room with friends and family around the world.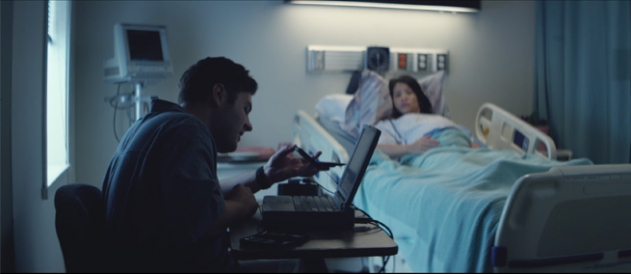 Philippe Kahn had already experimented with a way to send images via the Internet. He had set up a server at home to store recent images that he downloaded off of his camera, which he could then post to a website. Once posted, the server would send out an automated email to friends and family with a link for them to view the images. Like any Instagram user, Kahn could post a photograph that his friends would then receive a notification about, and they could comment. Kahn wanted to simplify this process into a single step. How could he find a way to simply "point, shoot, and share," as he says in the film?
During Sonia Lee's 18-hour labor, Kahn fiddled with his laptop, cellphone, and a Casio QV-10 digital camera in an effort to finish his invention. "This is 1997, the maternity doesn't have WiFi. [WiFi] doesn't exist yet. If I want to share pictures instantly, I needed to talk to this phone physically," says Kahn in the film. He needed the computer's server to interface with the phone. To do so, he had to find a way to connect the camera–with the photo–to the cell phone, to the laptop connected to an internet server, on which he'd written a code to synch the camera and phone.
Kahn didn't have a cable that could connect the phone to the computer or the camera but eureka, he ripped out his car's speakerphone kit and repurposed the wire to connect the devices. BIRTH OF THE CAMERA PHONE shows Kahn inside the delivery room, soldering iron in hand. With both the camera and phone connected to the laptop, the camera uploaded its photo to the laptop and the laptop was able to connect to the home server via the cellphone, which acted as a WiFi adaptor. Kahn photographed his new daughter Sophie and sent it to over 2,000 people.
The film ends there, but the story does not. Just a year later, Kahn founded a company called LightSurf to develop his new service—which he called PictureMail—and bring it to the market. He set up meetings with major telecommunications and camera corporations, including Kodak, Polaroid, and the Japanese cellular heavyweight NTT Docomo. However, he was rejected by all. Eventually found a partner in J-Phone, which in 1999 worked with Sharp to develop a "Picture-Mail phone" based on Kahn's model. In 2002, Lightsurf developed the first U.S. camera phone along with Sprint and Casio.
Twenty-one years later, Sophie can legally drink and the camera phone is not governed by any laws.
BIRTH OF THE CAMERA PHONE is directed Jonathan Ignatius Green, and stars Dante Gabiati as Philippe Kahn and Weny Wang as Sonia Kahn. It is available to stream below.