Amy Taubin and Eyal Frank on Agnieszka Holland's Spoor
Agnieszka Holland's new masterpiece SPOOR she has described as an "anarchistic, feminist, ecological thriller," and as "no country for old women." The film made its world premiere at the 2017 Berlin International Film Festival, winning the Silver Bear, and was selected to be part of the New York Film Festival. The English title, "Spoor," refers to the tracks of an animal being hunter. The Polish title, "Pokot," is a Polish hunting expression for the count of animals killed. SPOOR centers on a retired civil engineer who loves her dogs like children and is repulsed by the hunters running her home village on the Czech-Polish border. One day, her beloved dogs disappear. Shortly after, a local poacher is found dead. Deer tracks lead from his body into the forest.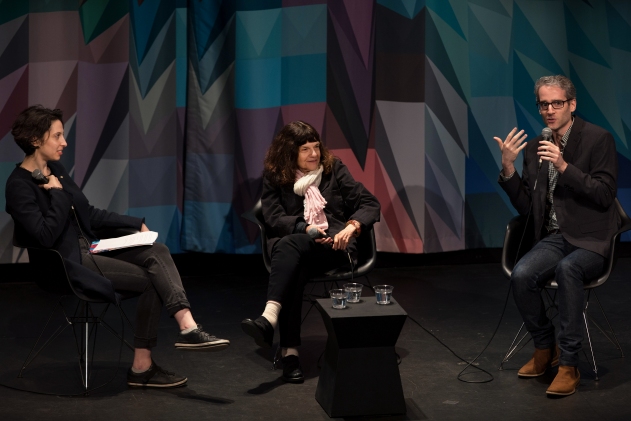 Sonia Epstein, Amy Taubin, Eyal Frank © 2018 Claudio Cafengiu
"Holland has woven a genre mosaic that is at once a phantasmagorical murder mystery, a tender late-blooming love story, and a resistance and rescue thriller," wrote Amy Taubin in Film Comment. The film does not yet have a U.S. distributor. On June 10, Museum of the Moving Image's Science on Screen series presented a special screening SPOOR, the first in the U.S. outside of a film festival.
Following the screening, critic Amy Taubin spoke with environmental economist Eyal Frank about biodiversity, poaching, and Agnieszka Holland's ecological manifesto. The conversation can be streamed below.