New Plays Commissioned by Manhattan Theatre Club/Sloan
The Alfred P. Sloan Foundation's eighteen year partnership with the premiere Broadway and Off-Broadway theater Manhattan Theatre Club includes artist development grants to support playwrights who are writing scientifically or technologically-based work. Twenty-one acclaimed playwrights have received commissions from the partnership to develop new plays.
Winning playwright Max Posner, whose recent productions include THE TREASURER and GUN LOGISTICS, wrote to Science & Film: "I never paid attention to science, until I was diagnosed with Multiple Sclerosis. The mysteries of the illness, and of playwriting are, by necessity, my nearest obsessions. The Sloan commission allows me to wade deep into these mysteries as a playwright, not a patient. What is it to have an incurable but invisible disease? How does this shape one's social reality? I've found medicine to be as subjective as it is certain, which makes it a good candidate for drama. How many of us suffer, chronically, at the mercy of random patterns, our bodies attacking themselves. And our doctors, bent on the virtuous and absurd task of explaining processes which have no definitive cause or end. I have been craving a play that approaches illness authentically, not tidily; without easy reverence or sentimentality. I haven't found many. I hope to write one."
Winning playwright Celine Song, whose plays include THE FEAST and TOM & ELIZA (a semifinalist for the American Playwriting Foundation's 2016 Relentless Award), wrote to Science & Film when the grant was announced: "my play is about the origin story of artificial intelligence, set in 1956 at a poorly organized but highly productive conference at Dartmouth. I am writing this play because I am concerned that our scientific capabilities are advancing far faster than our understanding of ethics and metaphysics. As we begin to live with Siri and Alexa and Cortana and secret algorithms buried in our Facebook and Instagram and Twitter accounts, I want to talk about what it means to be a thinking person. I want to explore what it means to have intelligence or to be intelligent."
In addition to Max Posner and Celine Song, the winning playwrights are:
Jaclyn Backhaus (MEN ON BOATS) has had plays produced by Playwrights Horizons, The Public, and Ars Nova, among others.
Clare Barron's work, including DANCE NATION, has been produced by Page 73, Woolly Mammoth, Clubbed Thumb, and The Bushwick Starr.
Nina Braddock (WISHBONE) is a playwright as well as filmmaker who writers for the TV series BERLIN STATION and whose short films include BIG BOY and ORANGE CHICKEN.

Sarah Burgess's plays have been developed and performed across the country, and include KINGS now at the Public Theater.

Christopher Chen, Clare Barron, Jiréh Breon Holder
Christopher Chen is best known for his award-winning CAUGHT.
Emma Crowe has been on the shortlist for the Most Promising Playwright at the Evening Standard Theatre Awards, and her plays include THE SEWING GROUP andKIN which was producedat the Royal Court Theatre.
Jessica Dickey is an award-winning actor and playwright best known for her play THE AMISH PROJECT which won mulitple awards including the CAPPIE Award for Best Play.
Stella Feehily's plays include O GO MY MAN, which won a Susan Smith Blackburn Award.
Dipika Guha's plays include THE RULES, produced by the San Francisco Playhouse and THE ART OF GAMAN, MECHANICS OF LOVE, produced by the Crowded Fire Theatre.
Alan Harris is a playwright (HOW MY LIGHT IS SPENT which was a Bruntwood Judges' Prize winner), who has also written plays for BBC Radio4 and Radio3.
Jiréh Breon Holder's plays have been produced at the Alliance Theatre and the Yale School of Drama.
Philip Howz's New York playwriting debut, FRONTIÈRES SANS FRONTIÈRES, was named one of the 10 Best Theatrical Productions of 2017 by New York Magazine.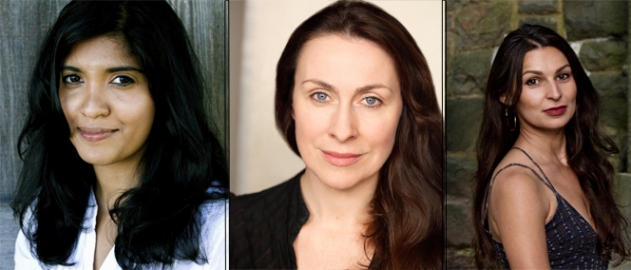 Dipika Guha, Stella Feehily, Emma Crowe
Obie Award-winning playwright Ethan Lipton's musical NO PLACE TO GO was produced by the Public Theater, and has been presented in more than 20 cities around the U.S. and Europe.
Martyna Majok's plays have been performed and developed at Steppenwolf Theatre Company, Manhattan Theatre Club, Actors Theatre of Louisville, and she is recipient of the Dramatists Guild's Lanford Wilson Award, the inaugural Women's Invitational Prize at Ashland New Play Festival, and more.
Caroline V. McGraw's plays include ULTIMATE BEAUTY BIBLE and THE VAULTS, and her work has been produced at the Cole Theatre, the Yale Cabaret, and the Kennedy Center, amond others.
Jiehae Park's HANNAH AND THE DREAD GAZEBO premiered at the Oregon Shakespeare Festival. She has received awards such as Leah Ryan, Princess Grace, Weissberger, and the ANPF Women's Invitational Grand Prize.
Jen Silverman's plays include THE MOORS which was produced at Yale Repertory Theatre, The Playwrights Realm, Red Stitch Theatre in Australia, and THE DANGEROUS HOUSE OF PRETTY MBANE which received a Barrymore Award.
Al Smith's theater work include DIARY OF A MADMAN and THE ASTRONAUT WIVES CLUB which was produced at the Soho Theatre.
Andrew Thompson's IN EVENT OF MOONE DISASTER won the Theatre503 Playwriting Award.
Cover image: Max Posner, Jaclyn Backhuas, Celine Song