Fathoming the Deep: William Beebe and the Bathysphere
The Department of Tropical Research was comprised of a group of men and women, scientists and artists, led by ecologist, ornithologist, and ichthyologist William Beebe. Leaving from New York harbor, the team made record-setting deep-sea dives–3,028 feet down–in a steel walled globe called the Bathysphere which Beebe invented with the help of engineer and aspiring film star Otis Barton in 1929. Diving below the ocean's surface in Haiti and Bermuda, the Department of Tropical Research (DTR) studied marine ecosystems documenting, classifying, and collecting specimens of undersea organisms including fish and corals. These expeditions advanced areas of field research, submarine engineering, and public understanding of marine life.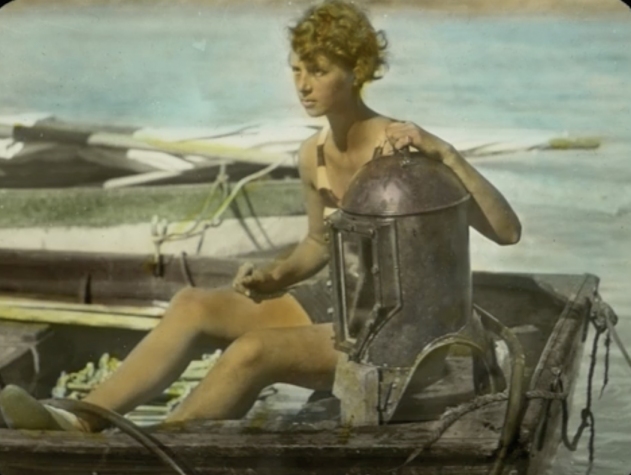 (c) Wildlife Conservation Society
DTR Expedition teams of four or five people typically included at least one or two artists who created narrative drawings to depict behavior, as well as anatomical drawings. Members of the DTR used film to study movement, and photography to further document research. Beyond their scientific purpose, these works were used to engage the public in understanding the deep.
The DTR, established in 1916, toured the country giving lectures and showing their films. William Beebe was famous in his day. "Mr. Beebe needs no further introduction than the fact that he wrote, 'The Arcturus Adventure,' 'Galapagos: World's End' and 'Pheasant Jungles," Marguerite Tazelaar wrote in Amateur Movie Makers December 1926 issue. Beebe was as much scientist as author. He had begun his career as an ornithologist and the curator of birds at the Bronx Zoo when it opened in 1899.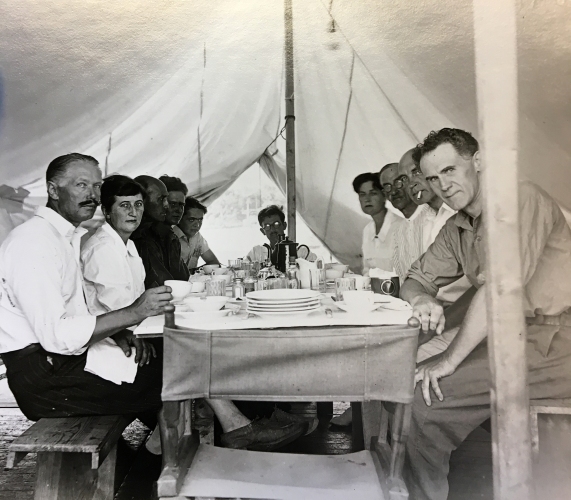 (c) Wildlife Conservation Society
Like Beebe, other members of the Department of Tropical Research were interested in engaging with non-specialized audiences. Otis Barton–who invented the Bathysphere–wrote, directed, produced, and starred in a film about their historic expeditions called TITANS OF THE DEEP. Broadcaster Lowell Thomas, who had visited Beebe and the DTR in Bermuda, narrated the film. Other members of the DTR ended up famous in Hollywood; Ruth Rose, who was the historian on Beebe's 1925 expedition to the Galapagos, wrote KING KONG (1933). Ernest Schoedsack, who was co-director of KING KONG, was also a member of the 1925 expedition.


For Academy Award-winning cinematographer Floyd Crosby, working with William Beebe as the DTR's photographer in 1927 was his first experience with cinema. Crosby went on to a career as an acclaimed cinematographer winning an Oscar for his work on Robert Flaherty's documentary TABU (1931), shooting HIGH NOON (made in 1952 starring Gary Cooper), and working as Roger Corman's cinematographer. On the DTR's 1927 expedition to Haiti, Crosby pioneered the use of a film camera underwater. "These pictures are remarkable because of the conditions under which they were made," the January 1928 edition of Amateur Movie Makers published under the heading "Under Tropic Seas." Constructed in New York City, Crosby's motion picture camera was contained within a brass box. "On a weighted tripod, one thousand feet of splendid motion picture film was obtained by Mr. Floyd Crosby," William Beebe wrote in his 1928 book Beneath the Tropic Seas. "These pictures were taken fifteen to thirty feet under water, and even at the greater depth showed full time exposure. Living coral of many species, sea-fans, sponges, and fish were photographed, and the diver in a second helmet can be seen in various activities demonstrating methods of study on the sea bottom. Once a barracuda swam so near the camera that it more than filled the entire screen."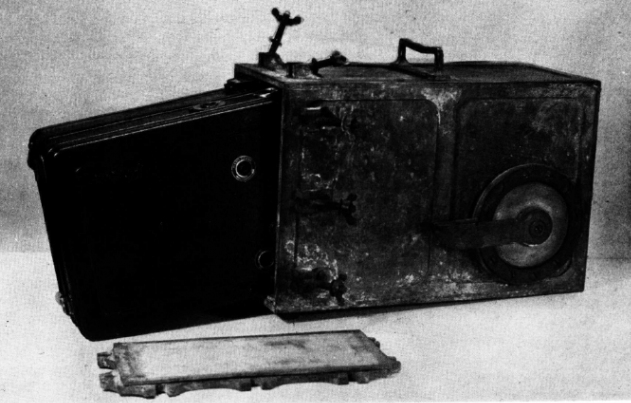 According to the 1928 Amateur Movie Makers article, Crosby's work presents "some of the most cinematic movies that one could find. There is continuous motion, of a very satisfying fluidity and they are a study in cinematic forms and rhythms. They appear almost like abstract studies of pure motion, because of our complete unfamiliarity with their milieu." Crosby achieved "a notable advance in the definition of what the real art of the motion picture is," the article continued. Crosby's footage was shown as part of lectures that Beebe or other members of the DTR gave, but was never compiled into a full-length film.
On February 25, the Museum of the Moving Image's Science on Screen series will present never-before-seen footage that Crosby filmed. "Of the Deep: Films by the Department of Tropical Research" combines reels of footage that the Wildlife Conservation Society headquartered at the Bronx Zoo (the DTR was part of the New York Zoological Society which eventually became the WCS) digitized in the past 15 years. In addition to Crosby's footage taken in Haiti in 1927, there are films taken on DTR expeditions to Bermuda in 1930 and '34. The program on the 25th will be introduced by Vice President and the Director of the New York Aquarium Jon Forrest Dohlin. They will be set to a soundtrack composed by multi-instrumentalist High Water.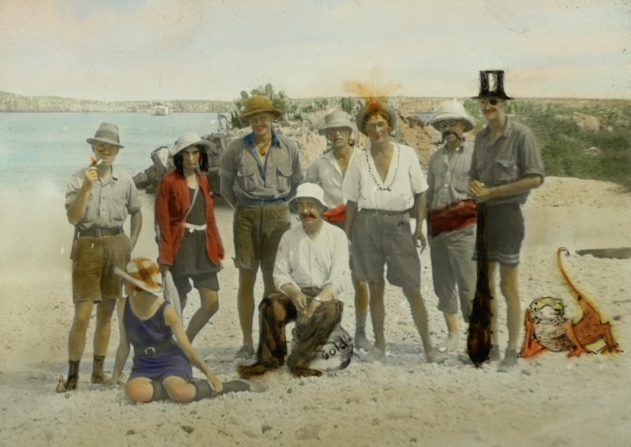 (c) Wildlife Conservation Society
Songs by Floyd Crosby's son, David Crosby (Crosby, Stills, and Nash), will also be featured accompanying a pre-screening projection of hand-colored lantern slides made by the DTR.
The film will be followed by a discussion, moderated by Sonia Epstein, between conservation biologist and whale researcher Howard Rosenbaum and Fabien Cousteau. Cousteau is an oceanographic explorer and filmmaker, and the grandson of famed explorer and filmmaker Jacques Cousteau. Beebe is often called the Jacques Cousteau of his time.