ACT UP-Paris: Robin Campillo's BPM
Robin Campillo's new narrative feature BPM moves with the disorienting pace of people whose lives are threatened. The film is the first dramatization of the group ACT UP-Paris. A patient advocacy group for HIV-positive individuals begun in New York in 1987, the group opened its Paris chapter in 1989. Running the Seine red is but one visual representation in the film, taken from an idea that the group really had, of the desperate state of people dying quickly, so many young–the main character in the film is 26. "I was really frightened as a young gay man–I was 20 in '82," said the film's director at the New York Film Festival on October 9, which Science & Film attended. "I thought that I was going to die because all the newspapers in France were very, very negative and terrifying."
In 2017, there is still no vaccine for HIV. In the late 1980s, anti-retroviral drugs were introduced, such as AZT and ddI, which helped to prevent HIV-positive individuals from developing AIDS but had horrible side effects for many and were ineffective for some. Sex education was the best form of prevention, but at the time speaking openly even about being gay could be controversial. As one of the characters in BPM says, the first time he saw a gay person in a magazine it was to say that gay people were all about to die.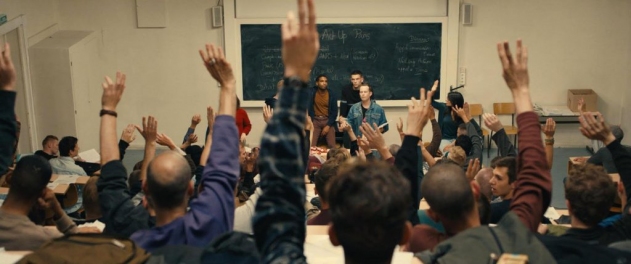 Campillo joined ACT UP-Paris in 1992. Through demonstrations, events, handouts, stickers, debates, and conferences, ACT UP members engaged with the public, news organizations, hospitals, and industry to bring awareness to the AIDS pandemic and to spur a wider-range of studies on the affects of these drugs, as well as to advance development and distribution of new treatment options.
Members of ACT UP were literate in the medical research studies and the work done by pharmaceutical companies. The antiretroviral drug AZT was released in 1987, and an alternate, ddI, was released in 1992. In the film, the group is lobbying for pharmaceutical companies to release a class of drugs called protease inhibitors to sick patients.
"We were struggling," director Robin Campillo said about the time. "We were trying to survive because we wanted to dance, to have sex, take drugs. Because we were very young and it was unfair because we were so good at doing all that." Campillo spent six years making his film. This is the third feature he has directed; his other two films are EASTERN BOYS and THEY CAME BACK. EASTERN BOYS won the Horizons Award at the Venice Film Festival in 2013, and Campillo won a César Award in 2009 for ENTRE LES MURS, which he adapted.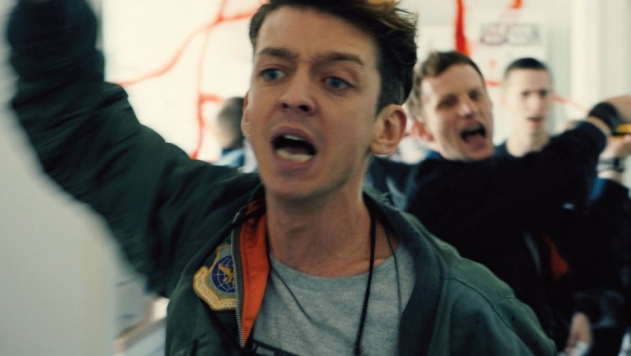 BPM features an ensemble cast which supports two main characters–one HIV-positive and one who is HIV-negative. They are fully embodied by actors Nahuel Biscayart and Arnaud Valois, who were with Campillo at the October 9 screening. "Every scene in which we are dancing, all the music was playing live. So it was very moving," Biscayart said. "We shot all the dancing scenes in one day so in the last scenes I was not there because I was either in the hospital or dead, so I was watching them down there…like a ghost."
House music, or electronic dance music, was played in most clubs in the 1990s; BPM's composer Arnuad Rebotini carries scenes from one to the next with beats. Even Jimmy Sommerville's song "Smalltown Boy," which Sommerville performed in Paris when Campillo was part of ACT UP, is remixed with a house beat. One hundred and twenty beats-per-minute is the pulse of house music. In France, the film is called 120 BPM.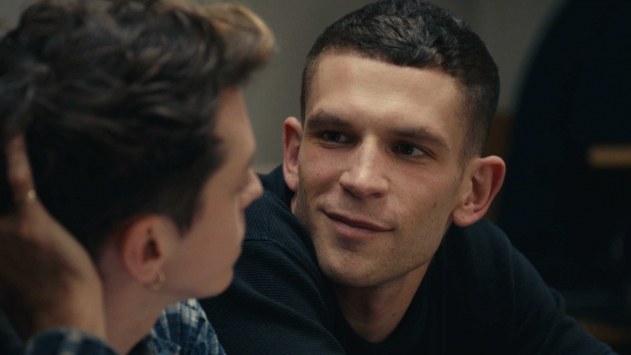 BPM, which made its world premiere at Cannes, is in theatres as of October 20. Directed by Robin Campillo, written by Campillo with Philippe Mangeot, and edited by Campillo, the film stars Nahuel Biscayart and Arnaud Valois with Adèle Haenel, Antoine Reinartz, Félix Maritaud, and Catherine Vinatier. For more, read Jeff Reichert's review of the film on Reverse Shot.