Director Barbara Albert on Mademoiselle Paradis
Maria Theresia von Paradis was a virtuoso piano player with acquired blindness who, during the year 1777 when she was 18, regained her sight. Dr. Franz Anton Mesmer treated Paradis during that year using his technique, later called "mesmerism," which involved practices of physical contact. In Rococo Viennese society, people rarely touched each other. Paradis' musical career and Mesmer's medical career were intertwined. As she regained her sight, her musical ability faltered. When he claimed to have restored her sight, he was called a fraud.
Their story is dramatized in the new film MADEMOISELLE PARADIS directed by Austrian filmmaker Barbara Albert (FREE RADICALS), which made its world premiere at the Toronto International Film Festival. Writer Kathrin Resetarits adapted the novel Mesmerized by Alissa Walser into the screenplay. Maria Dragus (THE WHITE RIBBON) vividly plays Maria Theresia von Paradis, and Devid Striewsow (THE COUNTERFEITERS) plays Dr. Franz Anton Mesmer. Science & Film spoke with the film's director Barbara Albert on the phone from Toronto, the day after the film premiered.
Science & Film: How did you come to the story of Maria Theresia von Paradis?
Barbara Albert: Even though there is one street in Vienna named after Maria Theresia von Paradis, to be honest I think no one in Vienna knows the meaning of the name. I felt ashamed when I read the novel by Alissa Walser and realized that the story of this woman was so local. That was one reason why I wanted to know more.
S&F: What research did you conduct?
BA: We stayed very close to the Alissa Walser's novel because she conducted very good research; her book is based on letters by Maria's father, a book by Mesmer, and articles in newspapers. The screenwriter Katherin Resetarits went deep into this subject–she's a really great researcher. She was interested not only in the story of Paradis but also in the hierarchical class system of 18th century Vienna. In the film, in the end, Mesmer was not accepted so he became an outsider. Although Mesmer and Paradis are very different characters, both share this inability to transcend of their social class.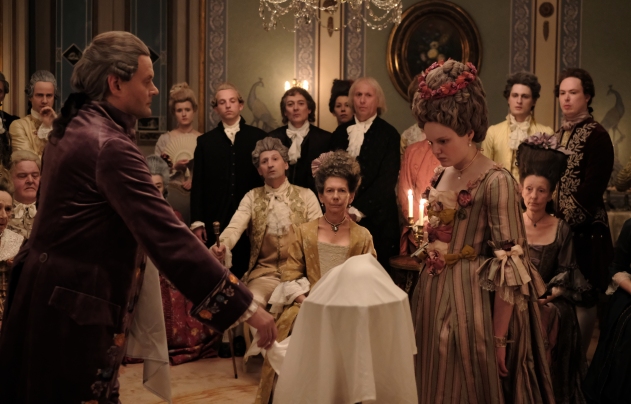 S&F: They depended on each other.
BA: Mesmer needs her and she needs Mesmer. But I didn't want to concentrate so much on their relationship–more on the development of this woman. She gets her eyesight and she still wants the right to make her music; she wants to have everything, which is something I can understand. Being blind gives her a certain kind of freedom, but it is sad that she had to be blind to have that kind of freedom. There are other musicians–like Maria Anna Mozart, the sister of Mozart–who had to marry. She was nearly as gifted as her brother but because she had to marry, she didn't have a chance to live her music. Being blind allowed Maria Theresia to at least have her music.
S&F: Because she wasn't forced to marry?
BA: Yes. She was not forced because, like her father says in the film, no one would take her because she was blind. This father–who needed his daughter's disability pension–on the other hand wanted her to be perfect and healed.

S&F: The film leaves some ambiguity as to whether or not Paradis really did regain her sight, until the end. How did you decide which story to tell?
BA: It was very important to me to find out what the truth was about the story; there are theories, and in the film we carry through one of them, but we really don't know what happened exactly. I believe, after all this research, that she really started to see.
I didn't want to leave the film too open, because it's easy to do that and have the audience be the interpreter of everything. So I decided that at some point we have to tell one story.
S&F: How did the people who said that she couldn't see explain the demonstrations of her ability?
BA: She may have had a dissociative disruption. I think Maria Theresia Paradis felt a lot of pressure because her parents wanted her to be this perfect girl and musician and maybe she, at one moment, said no to being that girl with her body. The theory I found very interesting was that maybe she subconsciously decided not to work anymore. She starts to see when she is pulled out of the system. This was something I could imagine for Paradis because when she returns to her family, she looses her eyesight again. What I was so interested in when it comes to perception is that we don't know how every one of us is really seeing.
S&F: Did you think about that when making this movie?
BA: I always want to make films that are as close to reality as possible. But at a certain point I came to think that it is not possible to show reality. These are questions that I want to be in the film. In our world there are so many images. There were times when I've thought that I didn't want to work with images anymore because there are so many that it makes me sick. There is a moment in the film when Maria starts to see. For me it was a healing process to start to see the simple things like Maria does. She watches small objects, chickens, and I love how Maria [played by actress Maria Dragus] watches this world. I find it so funny when she says in the film, this is what a human being looks like! We think we are so important, us human beings, and then she laughs about it. In a way we are ridiculous. Starting to get to know the world through her eyes really touched me. I wanted to make a sensual film.
MADEMOISELLE PARADIS, directed by Barbara Albert, will make its European premiere at the San Sebastian Film Festival. Maria Dragus, currently shooting MARY QUEEN OF SCOTS alongside Saoirse Ronan, Margot Robbie, and Guy Pierce, will be in attendance.