Lucy Kirkwood's Mosquitoes Premieres on Stage
Lucy Kirkwood's new play MOSQUITOES, commissioned by the Sloan Foundation's partnership with Manhattan Theatre Club, will make its world premiere at the National Theatre in London. Set in Geneva, Switzerland in 2008, the play features a physicist who works at the largest man-built machine in the world; the Large Hadron Collider (LHC) houses a sort of race track in which magnetic forces smash protons together at close to the speed of light. This recreates the conditions of the origins of the universe and allows over 10,000 scientists from around the world to study those conditions.

In MOSQUITOES, Alice the physicist is on a team at the LHC searching for a particle known as the Higgs Boson which was theorized in 1964 to give mass to things in the universe. Alice's sister Jenny comes to stay with her at this inopportune time. Golden Globe and BAFTA-winning actress Oliva Colman (THE LOBSTER, BROADCHURCH) stars as Jenny opposite Olivia Williams (THE GHOSTWRITER, ANNA KARENINA). Rufus Norris, Director of the National Theatre, will direct the production. Norris has directed LES LIAISONS DANGEREUSES on Broadway, which was nominated for five Tony Awards, along with numerous other theater productions.
Kirkwood is an acclaimed British playwright who has won numerous awards, including the Laurence Olivier Award for Best New Play for her 2013 production CHIMERICA. The Sloan Foundation has a partnership with Manhattan Theatre Club to commission playwrights to write new plays with scientific or technological themes; Kirkwood was a recipient of a grant from this partnership in 2008, with which she wrote MOSQUITOES. In December of 2017, she will make her New York debut at the Manhattan Theatre Club with a play called THE CHILDREN which stars a trio of retired nuclear engineers.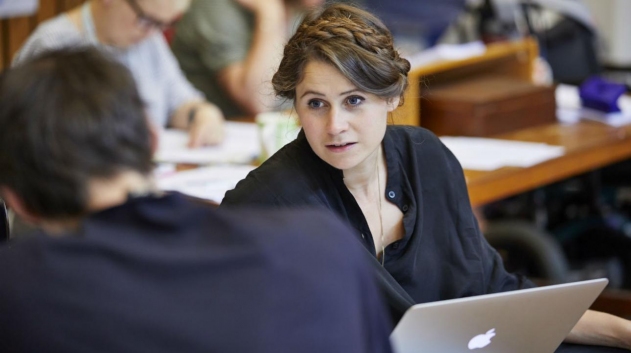 MOSQUITOES runs from July 18 through September 28 at the National Theatre's Dorfman Theatre. Stay tuned to Science & Film for coverage of talkbacks and events during the play's run. One such event is a screening on September 11 of the Sloan-supported documentary PARTICLE FEVER, about the moment that the LHC discovers the Higgs Boson.