Cephalopods On Screen
The fourth annual Cephalopod Week, in June, celebrated octopuses, squid, and such cephalopods which inhabit the largest unexplored area on earth–the ocean. Cephalopod Week was begun by public radio program Science Friday. On Monday, June 20 Science Friday and Atlas Obscura presented an evening of original documentary shorts about cephalopods at Lovecraft Bar in the East Village.
The bar is named after the horror fiction writer H.P. Lovecraft; it features a sculpture of a Kraken, a giant squid mythologized in Alfred Tennyson's 1830 sonnet of the same name. Lovecraft wrote too about monsters of the deep; his story The Call of Cthulhu introduces the Cthulhu, which is a humanoid form with an octopus for a face. Though cephalopods still hold a grim place in culture (Ursula of THE LITTLE MERMAID), scientists are now learning more about the remarkable abilities of these marine animals.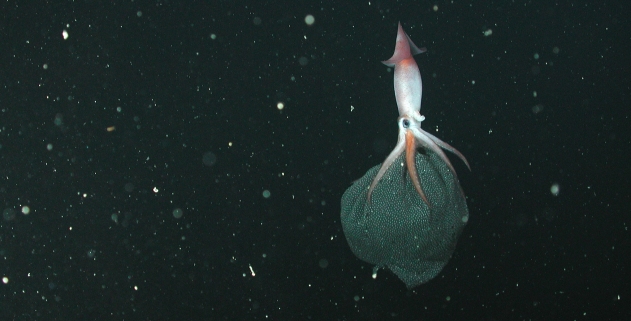 In person at Lovecraft Bar was Sarah Mcanulty, who studies the bioluminescent bacteria of the Hawaiian bobtail squid. In the light, these squid look very brightly colored. But they are nocturnal creatures so in the evenings their bioluminescent bacteria camouflage them against the moonlight making them hard for predators to see.
Science Friday's Luke Groskin and Christian Baker produced the four videos presented during the evening. Each video features researchers studying cephalopods from various locations, including the Monterey Bay Aquarium and the Delaware Museum of Natural History. In one of Baker's videos, Love, Octopus-ly, biologist Richard Ross explains how octopuses mate.
For more, watch Isabella Rossellini and marine chemical biologist Mandë Holford discuss the mating behavior of sea creatures, including the octopus, at the Museum of the Moving Image.