The Dancer: Loïe Fuller's Inventions
The new feature film LA DANSEUSE (THE DANCER, in English), written and directed by Stéphanie Di Giusto, is a fanciful biopic about the early career of Marie Louise Fuller who became famous as the iconic dancer Loïe Fuller. Lesser known was that she was an inventor, and held patents for lighting and stage designs as well as costumes. The art critic Arsène Alexandre, Fuller's contemporary, wrote at the turn of the twentieth century, "La Loïe Fuller has triumphed in the first place because she is an inventor, for she has created a new form of art. Was this a dance? The dancers would reply, 'No,' with all the disdain they would have for movements and attitudes not accompanied by the usual ballet attributes. Was it color? The painters would tell you with some envy–but with a loyal and admiring envy–that it is something more than that. She has an artistic ardor and a kind of scientific instinct which make her explore the mechanic and optical domains for new interpretations of the soul."
Fuller was a self-made artist, and a true bohemian. She invented everything from the dress she wore, to the stage she danced upon, to the lights lighting that stage. She had no formal training of any sort. LA DANSEUSE stars the singer and actress SoKo, whose dances on film were choreographed by Jody Sperling (founder of the contemporary dance company "Time Lapse Dance" which re-imagines Fuller's works). Talking to Science & Film, Sperling said "I worked very intensively with [SoKo] over several weeks to share the cumulative information I have gotten over 20 years and try to give her the skills she needed to embody Loïe. SoKo is a very compelling performer and has incredible, authentic raw energy. It was quite magical working with her."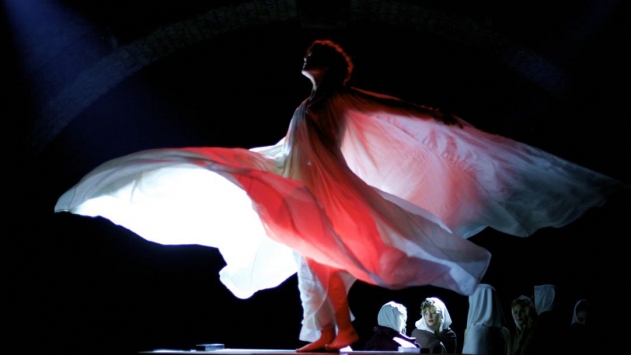 Fuller invented a new form of dance, tied to her patented costume. She was emblematic of the Art Nouveau aesthetic; with bamboo sticks she swirled a long dress into various biomorphic forms. Art Nouveau takes its inspiration from nature.
Fuller held a number of patents in France and Great Britain from 1893, and for at least three of them she received U.S. patents as well (513102, 533167, and 518347). In 1894, she received a U.S. patent for a "Mechanism for the Production of Stage Effects." This patent was for sub-stage lighting which would project upwards, so that the dancer would appear suspended. The lights were to be installed below the floors–if the floor was wood then it could be punctured to let the light in, or the floor could be made of glass. Also in 1894, Fuller patented a "Garment for Dancers." This was specifically for her "serpentine dance." The patent specified straight or hook-shaped wands, made out of bamboo or aluminum, which would allow the dancer to manipulate the hundreds of yards of fabric Fuller's dresses were made from. These dresses, made from any "light fluffy" material, were attached to a headpiece. So, the dress functioned more like a long skirt than any sort of dress fit to a body.


The Lumière Brothers filmed a dancer performing Fuller's "serpentine dance" in 1897. This was one of the first films. They hand-tinted the frames so that the dancer changes color in a way which mirrored what Loïe Fuller achieved in real life; she also invented gels to affect the color of lights. In 1895, Fuller patented a "Theatrical Stage Mechanism for Producing Illusory Effects." The design consisted of mirrors on stage in a darkened auditorium to give the illusion of multiple dancers performing. In the patent application Fuller wrote, "by preference, I use incandescent electric lights, and, by providing various colored bulbs for the same, it is possible to instantly change the tone of the scene from one color to the other, and by combining the various primaries other colors are produced." Fuller often used white silk to make her dresses.
LA DANSEUSE follows Loïe Fuller from her home in Illinois (where she was Marie Louise), to New York, and finally to Paris. Fuller was born in 1862 in Fullersberg, so named after her grandfather Jacob who began a farm there. Her father, Reuben, took over the farm until moving the family to Chicago to open an inn when Fuller was two years old. She had some minor successes when she was acting in New York, but ultimately left for Paris where she thought she would have better luck patenting her dances (she lived there from 1892 until her death in 1928). In Paris, she joined the Folies-Bergère, which is an avant-garde theater for performers.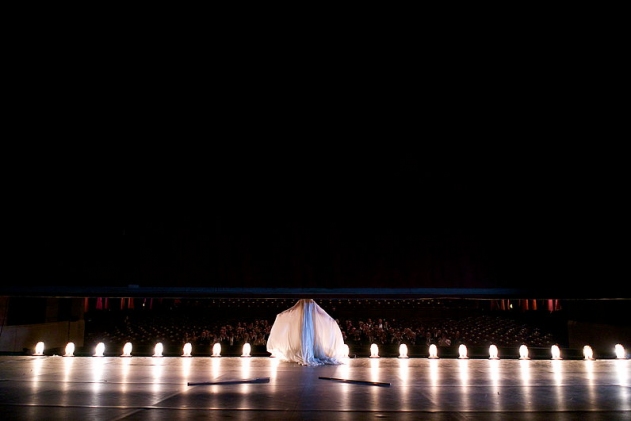 At the turn of the twentieth century, streetlamps and indoor lights were installed in Paris. By 1889 the Folies-Bergères was wired for electricity. Fuller danced there for the first time in 1892 making use of the electric lights and manipulating them to achieve her desired effects. As reported in the Chicago Tribune on September 5, 1896, "[La Loïe Fuller] has patented a skirt, decorated with serpents in various attitudes of squirms; another skirt, which is fastened around the head instead of at the waits; various implements for propelling the garment in fantastic curves, and a scheme for lighting the stage during a dance from points above, below, and all around the dancer." At the 1900 Exposition Universelle in Paris, Loïe Fuller had her own electrified pavilion in which she danced.
LA DANSEUSE played at the Film Society of Lincoln Center and UniFrance's annual "Rendez-Vous with French Cinema" in March of 2017. SoKo plays Loïe Fuller. Lily-Rose Depp is the famous American dancer Isadora Duncan. In 1902, Fuller invited Duncan to tour with her and sponsored some of Duncan's solo performances which helped to make her famous. The film suggests that there was romance between Fuller and Duncan. LA DANSEUSE is adapted by Stéphanie Di Giusto and Sarah Thibau from the 1994 biography Loïe Fuller: Danseuse de la Belle Époque, by Gionvanni Liste. It is produced by the Dardenne brothers. Stéphanie Di Gusto was nominated for Best First Film at the Césare Awards, and SoKo and Lily-Rose Depp received Césare nominations as well.