Pokot: Interview with Agnieszka Holland at the Berlinale
The renowned, award-winning Polish filmmaker Agnieszka Holland (EUROPA, EUROPA) premiered her new feature film, POKOT, at the 67th Berlin International Film Festival. Science & Film spoke with Holland in the Mountain Hare room of the Scandic Hotel in Potsdammer Platz on February 13. POKOT features a retired civil engineer named Duszejko (Agnieszka Mandat) who loves her dogs like children and is revolted by the local hunters; she lives in a small town in Poland, the Klodzko Valley near the border of the Czech Republic, which has a year-round hunting season. "Duszejko is sensitive to everybody who is weaker, who is broken, who is voiceless," said Holland. "She tries to give them the voice. If she cannot, then she does other things."
Roe deer, wild boars, pheasants, and countless other animals are hunted or poached by the townspeople. Duszejko appeals to the police, and to the priest to arrest or condemn the carnage. They do just the opposite. According to Holland, Duszejko represents a "different sensibility and a wider sensibility. She is open to the areas and realities of emotions which we do not see, and do not respect, and quite often do not accept."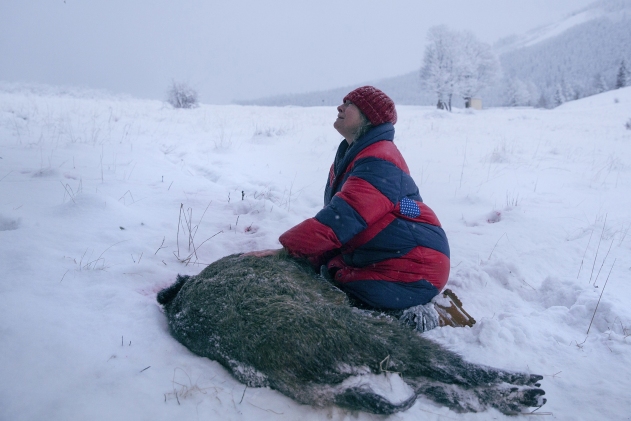 Duszejko finds a kindred spirit in an entomologist specializing in beetles named Boros (Miroslav Krobot). "For Boros, religion is the belief that insects are as important as everything," said Holland. In the film, Boros likens the cutting down and processing of trees that contain insect larvae to a holocaust which nobody knows about. When Boros leaves town, Duszejko becomes further outraged by the local disdain for life and begins to take matters into her own hands.
The scientists in POKOT have an extreme way of thinking which sometimes causes radical action. They also have deeper relationships with those around them. They are the ones who eventually leave the small town. "After the screening yesterday the political correspondent of Polish state media wrote that I made an anti-Christian, pagan film promoting eco-terrorism," said Holland. "You can imagine what is waiting for me when I get out of the plane in Poland." According to Holland, POKOT is not meant to be taken literally.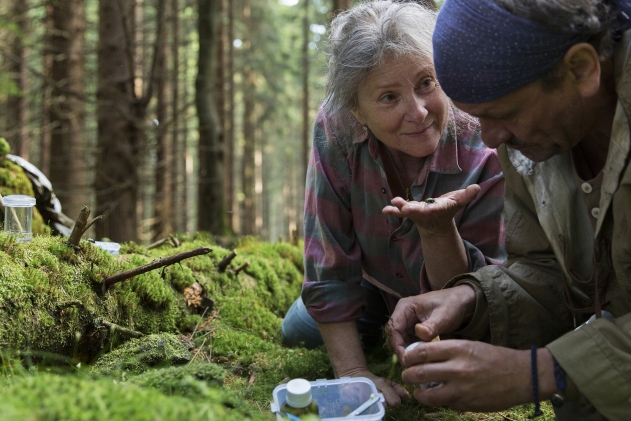 POKOT, called SPOOR in English, made its world premiere in the Competition section of the 67th Berlin International Film Festival. The film is written and directed by Agnieszka Holland. Her daughter, Kasia Adamik, contributed to the directing and novelist Olga Tokarczuk contributed to the writing. The film stars Agnieszka Mandat, Wiktor Zborowski, Miroslav Krobot, Jakub Gierszał, Patricia Volny, and Borys Szyc.

Holland has directed over 30 films. She collaborated with Krzysztof Kieślowski on his trilogy THREE COLORS. In addition to filmmaking, Holland has written for television shows such as THE WIRE, TREME, and HOUSE OF CARDS.