Premiere: Amanda Tasse's Reality Clock
"When I have finally crossed over the line, who will I be?" reflects an aging watchmaker in Amanda Tasse's short film THE REALITY CLOCK. The watchmaker, suited up with a black vest, bowler hat, and gold chain-link watch, is losing his memory. He begins testing himself using a simple diagnostic assessment for dementia: The Reality Comprehension Clock Test. A central component of the diagnostic is to have the patient draw a picture of a clock from memory of one they were just shown, which is then used to determine further treatment. In THE REALITY CLOCK, the watchmaker is alone in his apartment, and keeps losing track of time as he tries to complete the test. But he still has his old phonograph, and his emotional connection to the music helps trigger memories of his past.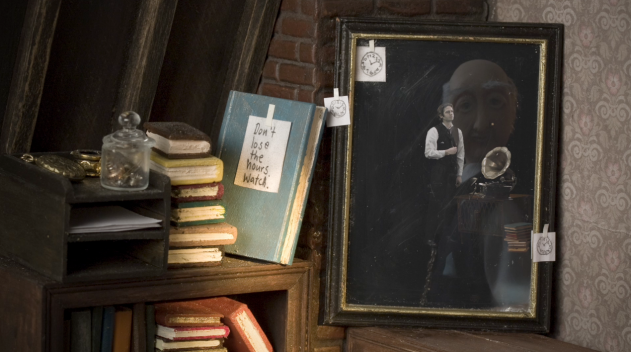 THE REALITY CLOCK is a seven-minute animated film. The set and puppets are beautifully molded and animated using stop-motion techniques, and those are combined with live-action shots of the watchmaker when he was young. This discrepancy between the animated and photographic underscores the watchmaker's changing perception of the world.
The director, animator, and designer Amanda Tasse is getting her Ph.D. in Media Arts and Practice at the University of Southern California. In addition to receiving a Sloan Production Grant for THE REALITY CLOCK, Tasse is one of the few filmmakers to receive a second Sloan grant—her other film is MIRA, about a marine biologist. Tasse works in visual design, animation, interactive media, and gaming. THE REALITY CLOCK is making its online premiere on Science & Film, and will be available henceforth in the growing library of short fiction films by emerging filmmakers.
The short won a gold medal at the Student Academy Awards from the Academy of Motion Picture Arts and Sciences in the Alternative category. It also won Best Animation from the Silicon Valley Film Festival, among others.
In addition to streaming in the Sloan Science & Film library, THE REALITY CLOCK is part of a new Sloan Science & Film Teacher's Guide making short films available for use in the classroom.