Wax Death Masks at the Alamo Drafthouse
The House of Wax is a new bar and restaurant, in downtown Brooklyn near Metrotech, where the face of Napoleon Bonaparte rests on a red cushion. It is not alone. A hallway lined with these death masks–molded out of wax–leads into the restaurant. The House of Wax is inside of the new Alamo Drafthouse Cinema, the 22nd cinema of the franchise. The Brooklyn location has seven screens and will have a program of new releases as well as classic films.
The majority of the pieces exhibited at the House of Wax are curated from a wax museum–Castans Panoptikum–which was run in Berlin by Louis Castan from 1869 until 1922. Brothers Louis and Gustav Castan founded the collection, which was focused on the human body, and were members of the Berlin Society for Anthropology, Ethnology and Prehistory. The Society studied the effects of the exhibition on viewers–using the Panoptikum as a milieu in which to conduct an anthropological investigation. The Panoptikum was focused was on the human body. The works created and exhibited there were anatomically accurate; they included a model of the human digestive track, and death masks such as that of Mary Queen of Scotts.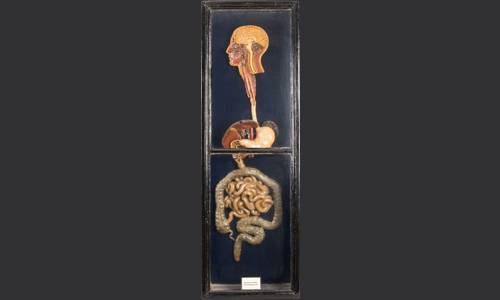 Founder of the Alamo Drafthouse Tim League writes on the entry panel to the House of Wax that the collection was, "of immense legitimate value to the burgeoning fields of both anthropological study and medical research. [It was] also instrumental in disease education and prevention." This differentiates it from the more sensational Madame Tussaud's where, in Times Square (New York), visitors can chase ghosts from the latest GHOSTBUSTERS movie. Some of the exhibited wax busts portray the effects of illnesses such diphtheria on their hosts. Another sculpture is of a head laid back with neck exposed and cut open to show the insertion of a tracheotomy tube. Because of the anatomical accuracy of the works, there was the possibility that they could be used to further medical research.
The House of Wax serves bar food and cocktails; the "Napolean Death Max" is a mix of cardamom, bacon, rhubarb bitters, salt, cynar, and cognac. The Alamo Drafthouse has seven theaters which can show DCP as well as 35mm, and has a program of films which include FANTASTIC BEASTS AND WHERE TO FIND THEM and DOCTOR STRANGE in the coming month.