I Take Arsenic, Of Course: Florence Foster Jenkins
Though you ingest small amounts of arsenic if you eat apple seeds, and trace amounts of mercury with tuna fish, doses of these heavy metals, which we now consider toxic, were once prescribed for beauty and health. Peterson Magazine ran an advertisement in 1895 for "Arsenic Complexion Wafers" and soap for clear skin.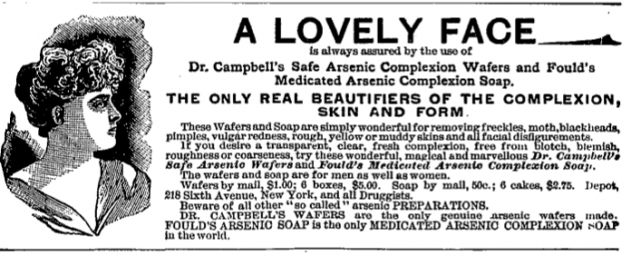 For medical purposes, arsenic and mercury were prescribed to patients with Syphilis until Alexander Flemming invented the antibiotic Penicillin in 1928 (and even thereafter). Syphilis is a bacterial infection which is transmitted through sexual contact with open sores. It was a so-called "social disease." Syphilis began to spread in 1880 and became a pandemic; a book by John H. Stokes from 1920 about Syphilis was tilted The Third Great Plague.
In Stephen Frear's new movie FLORENCE FOSTER JENKINS, Meryl Streep plays the New York philanthropist and socialite who had a deep passion for music, underwrote numerous concerts and, despite her flat pitch, performed in Carnegie Hall to an audience of 3,000. She pushed herself to sing the most difficult arias, including Mozart's "Queen of the Night." An inspiring story of someone who was as generous as she was self-involved, Florence Foster Jenkins (born 1868) suffered from Syphilis which she contracted from a man, a doctor, she married when she was in her teens. She lived with the disease for over fifty years, until her death from a heart attack in 1944 at age 76.
In the film, Florence is bald, her partner measures her pulse before bedtime, she often feels faint, she has seizures, her joints ache, and a doctor's visit reveals that she has scars on her back. She was living with tertiary stage Syphillis, which attacks the central nervous and cardiovascular systems. When a doctor asks her what she takes for the disease, she replies, arsenic, and mercury, of course.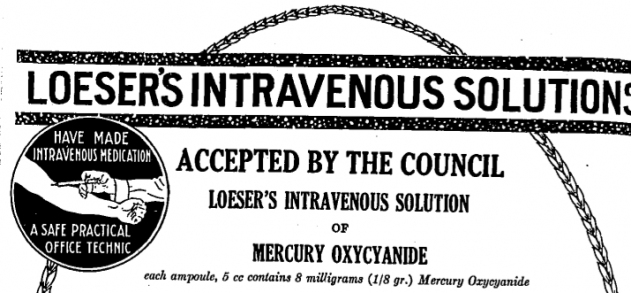 At the turn of the century, 15-20% of the population had Syphilis, according to a book by Nicholas Martin and Jasper Rees about Florence Foster Jenkins. An advertisement in the American Journal of the Medical Sciences from February of 1922 touts "Loeser's Intravenous Solution." This new solution was to be intravenously injected, and the ad states that because the solution matches the acidity of the blood it will permit, "an intensive and continued routine of mercury in Syphilis." Dr. G. Frank Lydston in a Medical News issue of December, 1894 said that he had found a solution of bromide gold, arsenic, and mercury to be "of great value" in treating both early and late stage Syphilis.
Both arsenic and mercury are chemical elements, but they are termed heavy metals because they are poisonous when a person is exposed to concentrated amounts. Penicillin, once it was put into use, was only effective if taken in the early stages of the disease. Florence Foster Jenkins took prescribed doses of mercury and arsenic for decades—in Donald Collop's documentary about her it is revealed she took doses twice a day.
The Museum of the Moving Image hosted a preview screening of FLORENCE FOSTER JENKINS, which is now in theaters, with Hugh Grant. Grant plays opposite Streep as Jenkins' partner St. Clair Bayfield—Grant talks about his character and making the film in a talkback with Chief Curator David Schwartz available below.