Science is Fiction: Jean Painlevé's The Sea Horse
Jean Painlevé's (1902-1989) vibrant documentary short films made the natural world seem almost unbelievable. They could be a precursor to the short films Isabella Rossellini made about animal sexual behavior for her stylized comedic series GREEN PORNO. Rossellini and Painlevé have each made short films about seahorses.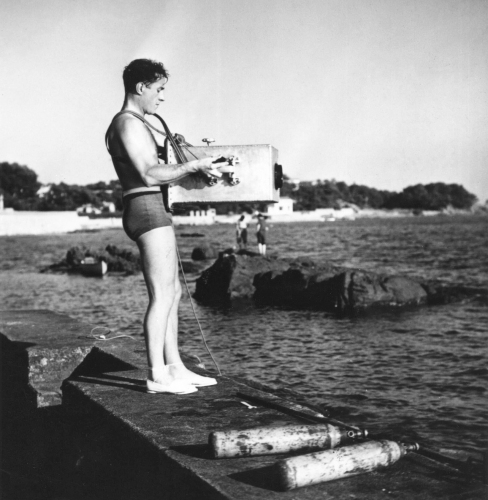 © 2016 Archives Jean Painlevé, Paris
Painlevé explored marine life with one of the first underwater cameras—he enclosed a camera in a watertight box with a hole for the camera lens. Dr. Chuck Wall, biology professor at North Shore Community College, said it is "incredibly difficult to take good photos or videos underwater, so it's hard to bring back an image to share with others." Painlevé used the diving equipment available at the time to descend and film creatures in their natural habitats, not in aquariums.
Painlevé trained to be a biologist at the Laboratoire d'Anatomie et d'Histologie Comparée at the Sorbonne. From 1928 until 1982, he made over 200 documentary short films. His contemporaries were Surrealist artists such as Antonin Artaud, Luis Bunuel, and Alexander Calder.
THE SEA HORSE, Painlevé's 14 minute black and white film made in 1933, shows the lifespan of seahorses. "I was particularly taken with the video of the seahorses when I first saw it," professor of Marine and Environmental Sciences at Northeastern University Dr. Tara Duffy wrote Science & Film. "Male seahorses release juveniles they had been brooding in their abdomen; it's akin to males giving birth. It's a unique form of parental investment that is driven by evolution. And, it's been on film for more than 70 years!"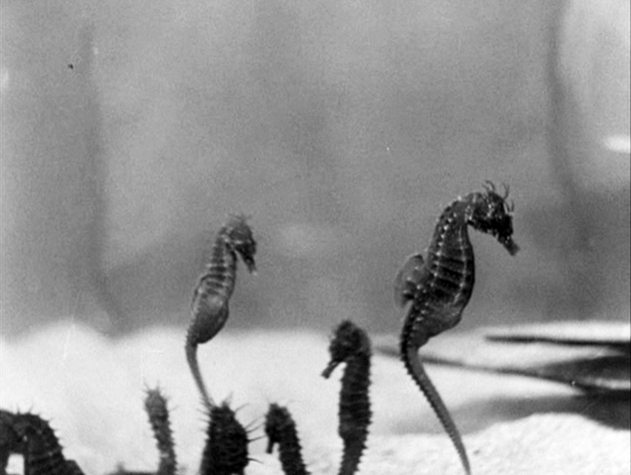 © 2016 Archives Jean Painlevé, Paris
She continued, "these films are really special, and I think represent some of the first attempts to share the marine environment with the public. My guess was that in the 1930's, aquariums were small and focused almost entirely on entertainment, with little education value. These films are entertaining and beautiful in their detail, but they also attempt to introduce something about the biology of the animals."
"Much life under the ocean has an alien quality to us," Dr. Chuck Wall wrote in a correspondence with Science & Film. "The music and narration in Painlevé's films has a sort of breathless, futuristic, sci-fi tone. The sea creatures filmed by Painlevé continue to inspire today's sci-fi movies."
Painlevé's weird films are art as education–they can be appreciated from every stance.