Meet the Filmmaker: Sahirr Sethhi
Filmed in Kanha National Park of The Jungle Book, ZOYA stars a zoologist searching for a lost tiger while trying to reconnect with his estranged daughter. This new short film is by director Sahirr Sethhi. The film was funded by a $30,000 production grant from the Alfred P. Sloan Foundation. ZOYA won a Student Emmy (College Television Award) in the Drama category. The film will have its world premiere at the 2016 Palm Springs International ShortFest.

Sethhi is a graduate of the University of California Los Angeles School of Film and Television, and holds an MFA in Film Directing. Science & Film spoke over the phone with Sethhi from his home in Los Angeles.
Science & Film: Could you tell our readers about yourself, and how you became interested in film?
Sahirr Sethhi: I am a filmmaker from India–who grew up splitting time between Mumbai and Dehradun. I came to UCLA for my MFA in Film Directing. ZOYA is my final student project. As a storyteller I have always wanted to combine science and the arts. The Sloan Foundation has been supporting films with a scientific bent, thus this was a perfect opportunity for me. I have especially been drawn to wildlife: The most magical moment I have experienced in nature was the first time I saw a tiger in the wild. Ever since then, tigers have become my favorite animal. I used to joke that I am a Leo and that's why lions were the best, but not anymore. The person who actually got me into wildlife and nature was one of my college professors Sudhakar Solomonraj who headed the Nature Club. With him I went for many hikes and treks and somehow my curiosity blossomed. When the Sloan Foundation was offering an opportunity to write something for a short film grant, I wanted to come up with a story that would allow me to go and film in the wild in India and present in a meaningful way.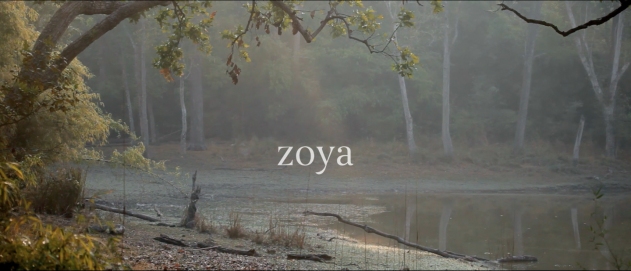 S&F: What is your short film ZOYA about?
SS: ZOYA was an interesting challenge. It was very important for me from the get-go to create a story, which engages you on the surface level but also makes you curious about the internal conflicts of the character you see on screen. The film is about a scientist who has devoted his entire life to conservation biology to the extent that his personal-life has suffered. Now, he's on a pursuit to rehabilitate his own life by rehabilitating nature and his family. I wanted to create a parallel between the two and humanize the scientist as a character audiences could identify with.
S&F: How did it come about that you were able to shoot ZOYA on the Kanha Tiger Reserve?
SS: I was very grateful to have a wonderful mentor at UCLA, Jessica Alfaro, who gave me a perspective and understanding of what life is for a zoologist in the field. I also reached out to some prominent zoologists in the field of animal conservation in India. I set up phone meetings with them, and when possible I tried to meet them in person. The kind of support and information I got from them was very helpful. A lot of the script evolved after I got factual answers from all the scientists. This helped me have a clearer understanding of what I was looking for in terms of a location to set the story in.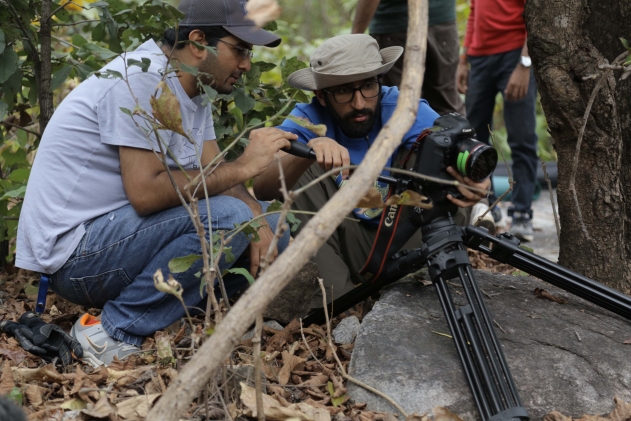 I went to three different tiger reserves for location scouts. First I visited Ranthambore National Park, which is in the state of Rajasthan. It's a beautiful reserve and I spotted a tiger on the very first safari. But it seemed very dry and warm on camera. Next was Bandhavgarh National Park, which has the highest density of tigers in a small area, and it's where I first saw a tiger in the wild. But, this time I didn't. It is always luck, you can follow the signs and sometimes a tiger presents itself to you and sometimes not. I was very disappointed, until we had a serendipitous encounter with a gentleman, Mr. Kamal Mohammed, who led us to the Kanha Tiger Reserve. We were trying to find a hotel for the crew to stay at and Mr. Kamal said he owned a resort in Kanha, and if we were shooting a wildlife movie then there is no better place than Kanha National Park. So overnight he drove us to his resort and hosted us for free. He took us for a hike and a safari into the forest the next day and it was sublime! The Kanha forest is where Rudyard Kipling set The Jungle Book. I had been to Kanha in the past, but I was apprehensive about shooting there as it's one of the biggest reserves in the world, so the odds of capturing a tiger on film were really low. But then, the moment we stepped into the forest, there were no two ways about it. We were able to venture out on foot to the buffer area and find locations we could stage our scenes. On our first hike, we heard a monkey's alarm call and filmed it. Where else in nature could we get that? Even BBC and National Geographic crews have to wait for weeks to capture something like that. For us to witness that on the first day in Kanha was a clear sign that we were going to shoot there.
S&F: How did you find the people who starred in ZOYA?
SS: I was lucky to work with a phenomenal cast. I was introduced to the lead Mr. Rajesh Tailang (THE SECOND BEST EXOTIC MARIGOLD HOTEL, SIDDHARTH, UMRIKA) by Mr. Adil Hussain(LIFE OF PI) and Mr. Tailang put me in touch with Mrs. Geeta Sharma with whom he'd worked on a feature film in the past. As for Manjot Singh (UDAAN, FUKREY, OYE LUCKY LUCKY OYE), I got his phone number from a friend and pitched him my project. I sent my script to all three of them and discussed my vision with them over the phone. I guess they liked the material and came on board. As for the supporting cast, they were non-actors and actually worked as staff at Kamal's resort.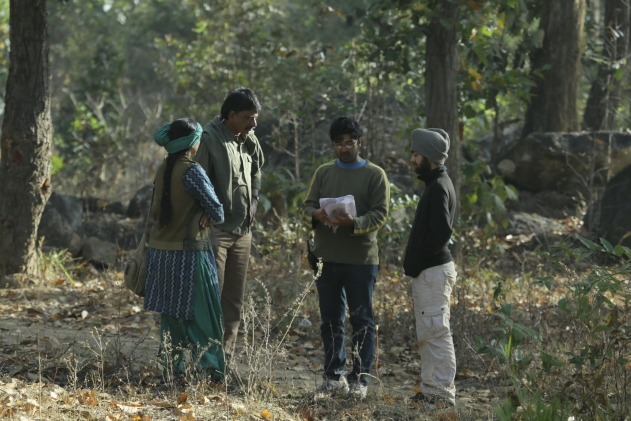 Aside from my cast, two of my key creative collaborators were Eeshit Narain, my DP, and Shayar Bhansali, my editor. Without the support of these two creatives, ZOYA wouldn't have been the film it is. They are both artistic storytellers who had my back during each step of the creative process. When one watches the film, their creative finesse is hard to miss. Also, I was lucky to have Mr. Jim Fitzpatrick, an Emmy award-winning sound mixer, as our sound designer. He brought the jungle we see on screen alive with his soundscapes. Nathan Matthew David, our composer, wrote a beautiful score.
S&F: How are you supporting yourself?
SS: I had been working as an assistant to the directors Jonathan Dayton and Valerie Faris, who directed LITTLE MISS SUNSHINE. They have been my mentors for the last two years. They are directing a feature film with FOX called BATTLE OF THE SEXES which is scheduled to come out in 2017. I assisted them during the film's pre-production and then moved on to edit for a live TV show. As of now I'm freelancing as an editor, while I'm working on my feature film screenplay. The plan is to pay bills doing jobs that help me grow as a filmmaker as I work my way towards my first feature film.
S&F: What will your first feature be?
SS: I have a few different stories I'm developing. One of them is set in the archipelago of Andaman Islands of India and started off as a Sloan proposal.
ZOYA will premiere at the Palm Springs International ShortFest on June 26, 2016. The film will also show at the Rhode Island International Film Festival from August 8 to 14. If the film wins at one of these festivals, it will be eligible for an Oscar.
The Alfred P. Sloan has a partnership with UCLA to support the next generation of filmmakers to develop films with science and technology themes and characters. Science & Film hosts a library of past award-recipients.