Exclusive Interview: Basmati Blues's Monique Caulfield
BASMATI BLUES is a musical romantic-comedy centered around genetically modified rice. It stars Academy-Award winner Brie Larson, Utkarsh Ambudkar, Donald Sutherland, and Tyne Daly singing and dancing, and is directed and co-written by Danny Baron. The film received support from the Sloan Foundation in partnership with Film Independent which put producer Monique Caulfield through the Film Independent Producer's Lab in 2007. Science & Film spoke on the phone with Caulfield from her home in California mid-January just weeks after finishing the film, after she had some time to recoup, in an exclusive interview about the science in the film, its genre-defying nature, and the plans for its distribution.
This interview has been edited for publication.
Science & Film: What inspired you to make BASMATI BLUES?
Monique Caulfield: Director, co-writer Danny Baron and I had both been reading a book by Arundhati Roy called The Cost of Living which contains poignant essays that speak to the cost and consequences of "progress." That same week we wound up in a spirited argument with some friends, including Danny's co-writer Jeffrey Dorchen about food policy over dinner. That mixed with timely watching of some James Cagney and Bollywood classics became the inspiration for the film. At the core of the film there is a moral dilemma. We found ourselves discussing the intersection of progress, human needs, personal responsibilities, and innovation. How these issues affect core needs. For instance food, the most basic need, and how it is affected by those issues. Companies create new kinds of seed for farmers to grow and harvest for people to eat. A nice relationship. However if the only goal of a company is to maximize profit how does that affect the more vulnerable farmers and populations? The CEO needs to pay attention to share value. That's his job. In between the CEO and the farmer is the scientist. We wanted to explore their role. The often unwitting way their research is being used in ways they didn't intend.
We thought what if we take this character, this scientist, who is armed with nothing but a brilliant idea for a new kind of rice and a sincere passion to feed the masses, who is quite focused on her microscopic piece of the puzzle, and follow her as she comes face-to-face with the people who are affected by these forces, by the fallout of the decisions of the company to maximize profit no matter how it may negatively affect certain people. At the time we started hatching this there was something called the "terminator gene" that Monsanto created. There was a huge outcry against it and they wound up pulling it back. That sparked the idea: we thought that this was a really simple way to show a seed that is sterile, that has had the future taken out of it, as a symbol of this battle.
S&F: Had you and director Danny Baron worked together before?
MC: I've been part of the creative process with him and his partners for years. This is our first production. It was quite an adventure to do this together.
S&F: Could you talk about the research that went into making the film? What did you learn?
MC: Both of us have a lot of scientists in our lives—people who have truly dedicated their lives to trying to help people. We're very big believers in the power of science to bring about positive change. Time was spent talking with working research scientists and what we found were people who had their own concerns about the ethics of science in the areas of fundamental human needs used to maximize profits.
S&F: How did Sloan support help?
MC: The Sloan Foundation and the incredible Doron Weber appointed a science advisor for us named Norm Ellstrand who is a Professor of Genetics at University of California, Riverside. He is a brilliant, compassionate scientist. It was a real joy to experience the creativity, passion and sacrifice of scientist doing his daily work for all the right reasons. I think that can get lost in a lot in the conversation and paranoia about science. The screenwriters had a great time working with him on getting the science right. But the biggest thing was that Sloan funds came at a critical time when we needed to show the importance of music to the film. That started with bringing on a music supervisor and working with songwriters on the demos that eventually became our original songs. We also needed a casting director to help us find talent up for the adventure with all the skills a musical required. Sloan funds were a godsend–they really put the wind in our sails. We worked for a very long time to put this film together with no money; just passion and goodwill, but we didn't quite have the resources to develop the film in the way we needed to until Sloan.
S&F: You just finished the film a couple weeks ago, how are you planning to approach distribution?
MC: We are going to reach out in early March to distributors. Right now we're focusing on putting together the marketing materials—cutting a trailer and making a poster. There's a lot about the journey that's very familiar but its done in a new way—science is not your typical subject for a musical and India is as exotic as it gets.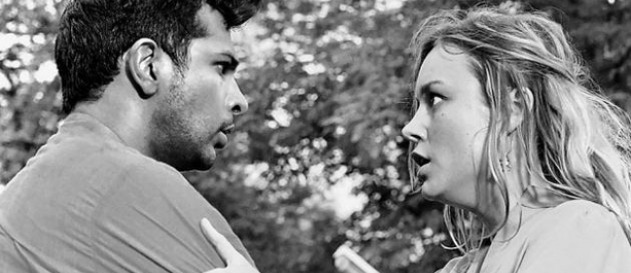 S&F: Does the film fit into any particular genre?
MC: We call it a musical-romantic comedy. It's a love story and fish out of water tale at its core. It shares DNA with other films like MOULIN ROUGE, which was Baz Luhrmann's homage to Bollywood. Basmati Blues has some Bollywood energy but this is a Hollywood film and the musical styles are quite varied—everything from Pearl Jam to Sugarland, and a Broadway-style number. We pay homage to musicals and to the older Hollywood Hepburn and Tracy romantic comedies.
S&F: Where are you hoping to premiere the film?
MC: We will definitely have a premiere in the States but will also do a premiere in India. Bombay of course. Also, we shot really off the grid in Kerala in this small rice-growing community and they were so supportive, we couldn't have done it without them. This was an extremely difficult shoot. At times we were shooting in the middle of nowhere on boats on these tiny islands with the monsoon starting, our Island becoming submerged but we survived in no small part because the locals were incredible. They loved the story we were telling and we promised we'd come back and do a premiere down there.
S&F: Do they have a movie theater there?
MC: They do but they also have a long tradition of projecting movies in town squares. We thought it would be fun to have live music, a bit of a festival and a party, and project the movie outdoors. In Kerala there is universal education and universal healthcare—it's a communist state inside of a democracy, education is the best financed in India, so you have a really intellectually sophisticated, educated group of farmers and they really got into the story. We want to premier in the big cities but also with the people at the heart of the film.
S&F: How long were you in production?
MC: Leading up to production we were in India on and off a great deal, months, scouting different locations and learning how Indian sets work. It's an ambitious film on a tight budget and the only way we were going to pull it off was planning and really understanding what it meant to shoot in India and the cultural exchange that would happen. We went back and forth to all these different areas and found an incredible location in the south and scouted out the area to the last detail. But leading up to the shoot we arrived at the location to tech scout and it was bone-dry and had no rice crop due to drought. A no go for a film set around rice farms. Our detailed plans went out the window and we had to find new locations within two weeks leading up to cameras rolling. That ultimately landed us in Kerala, which we all agree was the perfect place to shoot the film particularly when we forget how hot it was. That's India for you. It was an incredibly intense, daunting, serendipitous journey. Production was 52 days. Other than a three-day shoot in NYC we shot entirely in India—even many of the portions set in Manhattan were created backdrops.
The Sloan Foundation partnership with Film Independent supports filmmakers working on science and technology-themed works to go through the Film Independent Producer's Lab. BASMATI BLUES will likely make its premiere in 2016.