Science At The Movies: Charlie Kaufman's Anomalisa
Directors Charlie Kauffman and Duke Johnson's ANOMALISA, released by Paramount, is a strange, moving, and utterly human stop-motion animated film. The animation and puppet credits that roll at the end seem ten times as long as the three-person cast credits that precede them; the film stars Jennifer Jason Lee, David Thewlis, and Tom Noonan. Starburns Industries animated the film. From now through March, 2016 the Museum of the Moving Image hosts The World of Anomalisa in Behind the Screen, the Museum's core exhibition. In this special showcase visitors can see the foot-tall puppets displayed in the set of the hotel room where the main action takes place. Caroline Kastelic is the film's puppet supervisor—she made the star puppets. IndieWire talked with Kastelic about the original hand-sculpted puppets, the process of 3-D printing them, and how they got the characters' eyes to twinkle.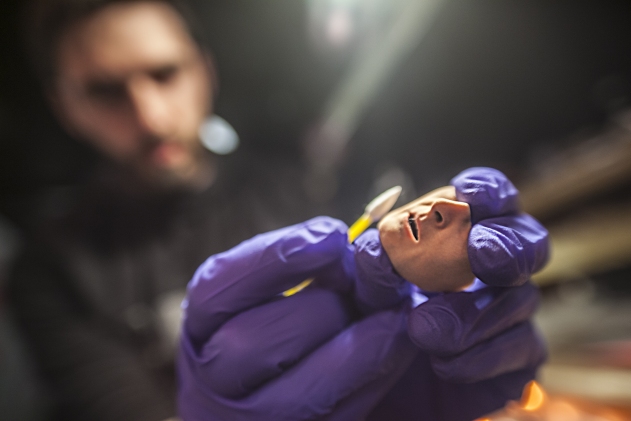 Charlie Kauffman and Duke Johnson visited the Museum of the Moving Image and the journal Reverse Shot, published by the Museum, took the opportunity to film an interview with the two of them on a tour of the museum's collection hosted by curator Eric Hynes. Amongst the collection's early devices used to record movement, Johnson remarked how making the film took "making choices that are 50% scientific: the physics of movement, how gravity functions, and how things actually move."
The main character in ANOMALISA is a motivational speaker and self-help author. He travels to Cleveland for a convention and the film stretches over the course of one night at the Fregoli Hotel. Integrated into the story is a psychological delusion known as the Fregoli Delusion. Neuroscientist Heather Berlin was commissioned by managing editor
Sonia Epstein
for Science & Film to
write an article
on how the delusion is played out in the film.