Science Films at CPH:DOX 2022
The Copenhagen International Documentary Film Festival (
CPH:DOX
), one of the largest documentary film festivals in the world, will run in a hybrid format both in-person and online from March 23 to April 3, 2022. Among the 200 new films in the program, 43 are science-related, including the new Sloan-supported documentary HOW TO SURVIVE A PANDEMIC by David France, and the mid-length film
CONSTANT
which will make its North American premiere at Museum of the Moving Image as part of a Science on Screen program on March 17.
We've rounded up all science-themed films at CPH:DOX below, separated by feature-length and short or mid-length films; descriptions are quoted from festival programmers. We will be providing coverage of the festival.
Feature-length films:
AFTER NATURE. Esther Elmholt. 65 min. World Premiere. "Four prominent Danish scientists and an artist struggle in their own way to mitigate the man-made mass extinction and understand how humanity's pursuit of wealth might lead to an ecological collapse."
AFTERWATER. Dane Komljen. 93 min. "A young couple leave town and camp by a forest lake as the world in and around them gradually transforms. A hauntingly beautiful cinematic work beyond category which dissolves the boundaries between nature and man, self and otherness."
A.I. AT WAR. Florent Marcie. 107 min. "What can artificial intelligence tell us about the darkest side of humanity? A philosophical and paradoxical human adventure with a robot as travel companion, and with light in the darkness."
ASCENSION. Jessica Kingdon. 99 min." Oscar-nominated and visually stunning panorama of modern China, from the poorest factory worker to the materialistic middle class, and to the red wine swelling and fashionable elite."
BEHIND THE SWEDISH MODEL. Viktor Nordenskiöld. 75 min. International Premiere. "Behind the scenes of the first corona wave in Sweden, where state epidemiologist Anders Tegnell went solo on a global scale - and became an involuntary public figure overnight."
CARBON - AN UNAUTHORISED BIOGRAPHY. Daniella Ortega, Niobe Thompson. 90 min. International Premiere. "With creative spirit, philosophical depth and SUCCESSION star Sarah Snook as narrator, we get the life story of carbon. Born of the stars, present within ourselves, and with the power to create and destroy."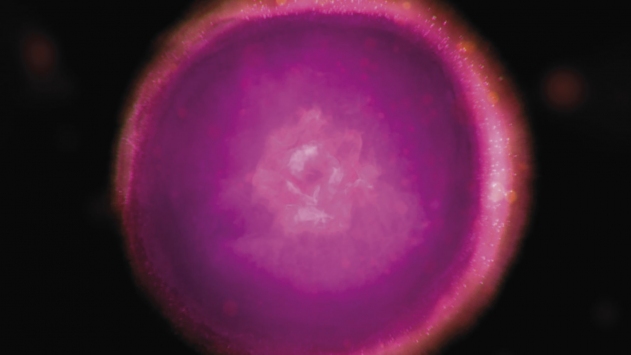 CARBON, Courtesy of CPH:DOX
COW. Andrea Arnold. 94 min. "A dairy cow's life from birth to end. Andrea Arnold's sober and unsentimental film ditches dialogue and moral judgements in favour of a pure, observant and uniquely powerful simplicity."
FIRE OF LOVE. Sara Dosa. 93 min. International Premiere. "A unique, poetic and visually stunning adventure film about a French scientist couple, cut entirely with their own footage from Earth travels in search of erupting volcanoes in the 1970s and 80s."
GIRL GANG. Susanne Regina Meures. 97 min. World Premiere. "A contemporary fairy tale about a 14-year-old influencer from Berlin and her biggest fan. But life as a social media star has a shadow side that the adrenaline, fame and free sneakers can't make up for."
GOING CIRCULAR. Richard Dale. 90 min. A big idea with big consequences. "Circular thinking has permeated sciences from biology to economics. Understand what the revolutionary idea is all about in a new film from the producers of MY OCTOPUS TEACHER."
HEALERS. Marie-Eve Hildbrand. 80 min. "A curious and warm tribute to health science and the people who heal us: Doctors, young and old, and those in touch with the beyond."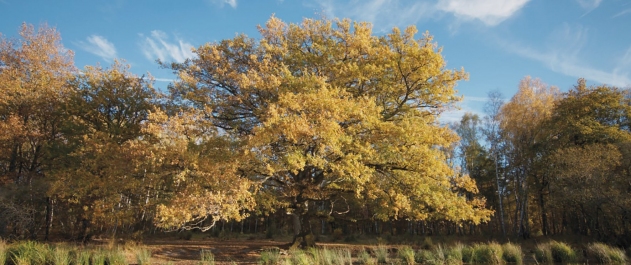 HEART OF OAK, Courtesy of CPH:DOX
HEART OF OAK. Laurent Charbonnier, Michel Seydoux. 80 min. "Every little detail is captured on the grain (and in 4K) in a film where the diverse wildlife around a single oak tree plays out like a daily drama of life and death. An audience favourite, and a huge nature experience."
HOW TO SURVIVE A PANDEMIC. David France. 106 min. "Acclaimed filmmaker David France documents the incredible story of the world's biggest health science project: the rollout of the corona vaccine. A story we have only just begun to learn from."
I'M SO SORRY. Liang Zhao. 96 min. "Abandoned, radioactive landscapes and the ruins of power plants are possessed by a haunting power in this visually stunning and suggestive work from one of the most significant names in Chinese art cinema."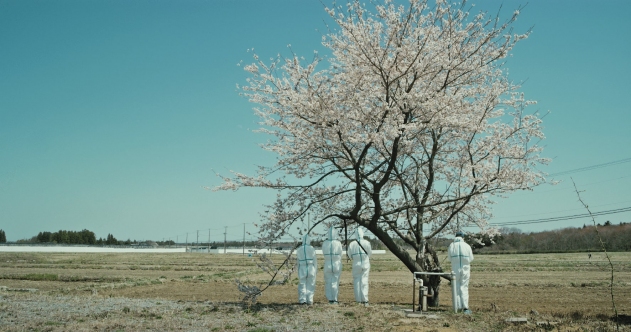 I'M SO SORRY, Courtesy of CPH:DOX
INTO THE ICE. Lars Ostenfeld. 86 min. World Premiere. "A grand, cinematic adventure on the Greenland ice sheet with three leading scientists in search of what the ice can tell us about our climate, our past and possible future. Epic and thought-provoking."
IL BUCO. Michelangelo Frammartino. 93 min. An expedition into the Earth's interiors from the deepest cave in Europe turns into a singular and magical film experience in the hands of former CPH:DOX winner Michelangelo Frammartino.
TO THE END. Rachel Lears. 103 min. International Premiere. "A shared dream of passing a New Green Deal leads three young female activists led by Alexandria Ocasio-Cortez into the centre of power, where cynicism and demands for change collide."
THE TERRITORY. Alex Pritz. 85 min. International Premiere. "A network of government-backed farmers is eating into indigenous territory in the Brazilian rainforest, but a local activist and his team are fighting back with a video camera as a weapon."
THIS STOLEN COUNTRY OF MINE. Marc Wiese. 93 min. World Premiere. "Chinese mining in Ecuador's mountains sets the stage for an epic battle between eco-guerrillas and a corrupt government in an intensely dramatic feature by former CPH:DOX winner Marc Wiese."
TIKTOK, BOOM. Shalini Kantayya. 90 min. "There's more than dollars and yen at stake as data flows from TikTok back to Chinese server parks. A critical but tech-positive film about the invisible influence of social media, and what to do about it."
PARKLAND OF DECAY AND FANTASY. Chenliang Zhu. 109 min. World Premiere. "Technology and spirituality are parallel forces in an abandoned and possibly haunted Chinese amusement park taken over by outsider artists. An enigmatic work of a great, dark beauty."
PEOPLE WE COME ACROSS. Mia Halme. 80 min. "700 Finnish tourists travel to Benin to take part in a vaccine trial in an understatedly funny film with a warm eye for human flaws and the tension between good intensions and harmful effects."
PERFECT BOYFRIEND. Kaori Kinoshita, Alain Della Negra. 88 min. "Can emotions be artificial? Technology and psychology merge in an ethnographic fiction-hybrid from modern Japan, where three adult men have fallen in love with a fictional character from a computer game."
PLEISTOCENE PARK. Luke Griswold-Tergis. 107 min. "Genius or madman? The adventure film of the year takes us on a bumpy journey to the Siberian steppes, where a Russian geophysicist wants to restore the ecosystems of the Ice Age through radical rewilding."
RIVER. Jennifer Peedom. 75 min. "An epic, cinematic journey around the world's rivers, narrated by Willem Dafoe and with new music by Radiohead guitarist Jonny Greenwood. This year's great nature experience on the big screen."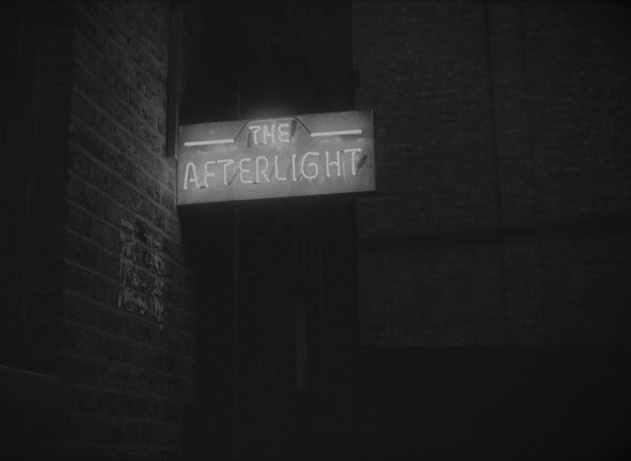 THE AFTERLIGHT, Courtesy of CPH:DOX
THE AFTERLIGHT. Charlie Shackleton. 82 min. "Where does a movie character go when the film ends? Scenes from hundreds of feature films are spliced together in a unique reflection on the film medium and its transience. A work that exists in only one 35mm film print, which is the one shown here."
THE COMPUTER ACCENT. Sebastian Pardo, Riel Roch-Decter. 85 min. World Premiere. "What does music composed by artificial intelligence sound like? American synthpop group Yacht is embarking on a radical creative experiment: letting a computer write their next album."
THE INVISIBLE EXTINCTION. Steven Lawrence, Sarah Schenck. 85 min. World Premiere. "The extinction of healthy bacteria in our bodies could escalate a new global health crisis. The good news: the field's top two scientists are on the case, examining the impact microbiomes have on our wellbeing."
THE NORTH DRIFT. Steffen Krones. 92 min. World Premiere. "A message in a bottle from Dresden brings news of incredible ocean currents and plastic debris in the world's vast floating ecosystems. An idealistic and pictorial adventure film with excess and a serious agenda."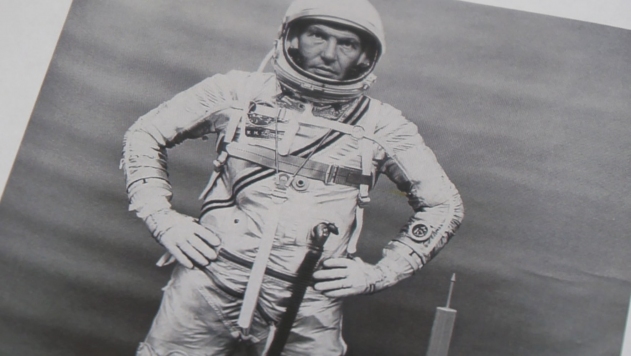 THE QUINTESSENCE, Courtesy of CPH:DOX
THE QUINTESSENCE. Pamela Breda. 70 min. "Philosophical free-style with some of the world's sharpest astrophysicists, who let us in on their personal thoughts and dreams about the most fundamental - and most abstract - mysteries of the universe."
THE SUBHARCHORD - A FUTURE THAT NEVER HAPPENED. Ina Pillat. 60 min. International Premiere. "A charming trip on the trail of a sound generator from the GDR, of which only three exist in the world today. Cold War technology and retro-futuristic sounds from a future that could have been."
THE YEAR OF THE EVERLASTING STORM. Jafar Panahi, Anthony Chen, Malik Vitthal, Laura Poitras, Dominga Sotomayor, David Lowery, Apichatpong Weerasethakul. 115 min. "Seven short films from some of today's most original artists and directors. A love letter to the world and to cinema from a year (soon to be two) of global storm. Documentary, fiction and video art."
UNSEEN SKIES. Yaara Bou Melhem. 98 min. "American artist Trevor Paglen uses the most advanced technology to map surveillance, data flows and the state's monitoring of our lives. Now he is about to launch the most ambitious project of his career."
WE MET IN VIRTUAL REALITY. Joe Hunting. 91 min. European Premiere. "Welcome to an ultra-artificial fantasy world, but one where both people and emotions are real. A social free space in a visually stunning film shot entirely in a VR universe during the pandemic."
WIRECARD: THE BILLION EURO LIE. Jono Bergmann, Benjamin Bergmann. 98 min. International Premiere. "Germany's biggest financial scandal in a hard-hitting docu-thriller about big egos, billions of euros and shattered illusions. The incredible story of Wirecard has it all - and it's true. And a really good one."
Short and mid-length films:
ABYSS. Google's Image Recognition AI, Jeppe Lange. 13 min. World Premiere. "A mind-expanding, cosmic sensory bombardment composed of 10,000 still images, linked together by Google's artificial intelligence."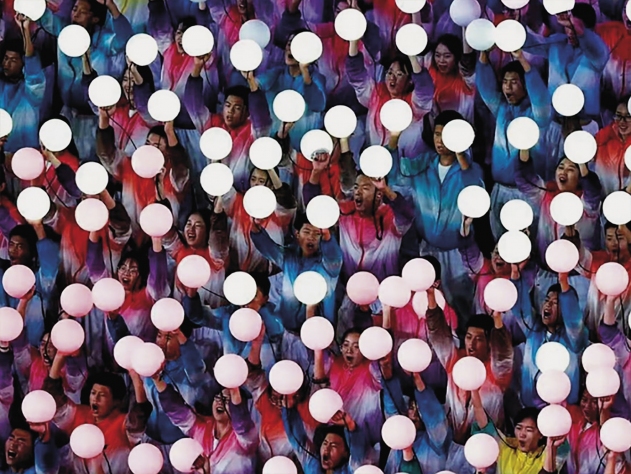 ABYSS, Courtesy of CPH:DOX
CONSTANT. Sasha Litvintseva, Beny Wagner. 40 min. European Premiere. "The organic chaos of the world stands in ironic contrast to the Wests' centuries-old project of measuring, delimiting and ultimately dominating it. A visually dizzying, understated satire."
EVERYTHING BUT THE WORLD. DIS Magazine, Lauren Boyle. 37 min. World Premiere. "Human past and future intersect in a non-linear, natural history meta-documentary about ourselves: Homo sapiens."
MICROBIOME. Stavros Petropoulos. 27 min. "The limits of intrusion in the peaceful life of local folk on the Greek island of Ikaria are being tested by scientists' quest for the secret of longevity. A comedic study in pacing and reframing a world view, in an attempt to understand frozen time."
NICOLAE. Mihai Grecu. 45 min. World Premiere. "Former Romanian dictator Nicolae Ceausescu reappears as a hologram, putting a small village on the other end. A darkly humorous and disquieting, social experiment."
PLANKTONIUM. Jan van IJken. 15 min. "Planktonium is a short film about the secret universe of living microscopic plankton. These stunningly beautiful, diverse and numerous organisms are invisible to the naked eye, but are drifting in every water around us."
THE TWO FACES OF TOMORROW. Patrick Hough. 38 min. International Premiere. "An unseen researcher uncovers the enduring influence of algae on our planet, from the deep past through to the near future."
THE WORM. Ed Atkins. 13 min. World Premiere. "'THE WORM is a performative video work based on a call from artist Ed Atkins to his mother, with Atkins himself as the digital avatar, caught in an endless loop of glitches."

---
More from Sloan Science and Film: