The new dramatic feature HIDDEN FIGURES has won the Sloan Science in Cinema Prize. Awarded in partnership with the San Francisco Film Society, the prize comes with $25,000 in cash. HIDDEN FIGURES is inspired by the true story of three African-American female mathematicians who helped compute the launch calculations for America's first orbital mission. They worked at NASA's Langley Research Center in the 1940s through 60s; their job title was "human computer." The film is based on a Sloan-supported book of the same name written by Margot Lee Shetterly over six years. The Sloan Foundation's Vice President of Programs, Doron Weber, presented director Theodore Melfi and actress Octavia Spencer with the prize.

After the award was presented on December 17, mechanical engineer Tracy Drain joined Spencer and Melfi on stage. Drain works at NASA on the mission to explore Jupiter using the Juno space probe. "I think [HIDDEN FIGURES] has a huge impact on students today who are trying to decide what they want to be, what they're able to be. A lot of times people say, you can do whatever you want, but until you see people who have done those things it is hard for people to really internalize that."
In HIDDEN FIGURES, Octavia Spencer plays Dorothy Vaughan who led a team of African American human computers at NASA. Vaughan was one of the first people to ever program an IBM computer–she learned the programming language FORTRAN. In order to compellingly play Vaughan on screen, Spencer had an IBM consultant who taught her about programming a motherboard, and a math tutor.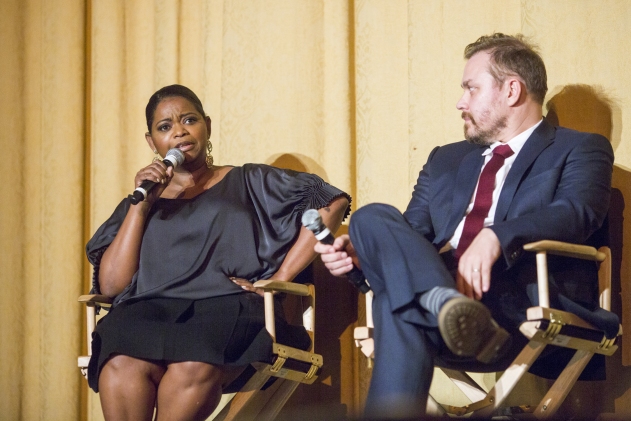 The film's director Theodore Melfi said, "one of my favorite lines in the film is when Kevin Costner says, we all get to the peak together, or we don't get there at all. To me, that sums up America, and what we're going through right now. Diversity can't just be a buzzword and neither can inclusion. Without the best minds circling a problem, the best answers don't come out. So, I wanted to show the women as a team, as pushing towards the same goal, and together they were able to accomplish that and stand for each other. That's what women need, what men need, and what the country needs."
HIDDEN FIGURES stars Janelle Monáe, Taraji P. Henson, Octavia Spencer, Kirsten Dunst, and Kevin Costner. For more, read Science & Film's article about author Margot Lee Shetterly and Janelle Monáe's reactions to the film.
HIDDEN FIGURES is only the second film to win the annual Sloan Science in Cinema Prize. The first one was awarded to Michael Almereyda's biopic about psychologist Stanley Milgram named EXPERIMENTER.