Excavating The Dig

Hollywood doesn't often come calling for archaeology, and when it does, the results are seldom accurate. Few real-life archaeologists carry bullwhips or twin handguns; even fewer have run afoul of curses, mummies, or face-melting lightning (that I know of); and there are never trowels, tarps, or revelations based on differently coloured soils. THE DIG, Simon Stone's new film based on John Preston's novel, is therefore quite the anomaly. It tells the story of a real excavation that took place in 1939 in a quiet corner of England known as Sutton Hoo. That's not to say that the discovery was mundane. In fact, it was one of the most significant ever made: the grave of a (probable) king who lived and died in seventh-century England, and was laid to rest in a treasure-filled chamber on a 90-foot ship. Moreover, the find was made by an amateur, on the hunch of a landowner, just at the moment when Britain was plunging into World War II. But in 'Hollywood Archaeology' terms, the Sutton Hoo ship burial is still very much 'business as usual' and, remarkably, the filmmakers chose to present it as such. They started their project like any good archaeologist does: by digging around in archives.
That's where I came in. I am the curator responsible for the Sutton Hoo collection at the British Museum, comprising the extraordinary artefacts (donated by Edith Pretty, the landowner with the hunch played by Carey Mulligan) and the equally precious excavation archive. This contains hand-drawn archaeological plans, hundreds of photographs, a reel of 8mm cinefilm, and the excavators' field notes, which together provide a vivid, first-hand account both of the discovery and the people involved. Unsurprisingly, THE DIG's crew were keen to excavate this trove.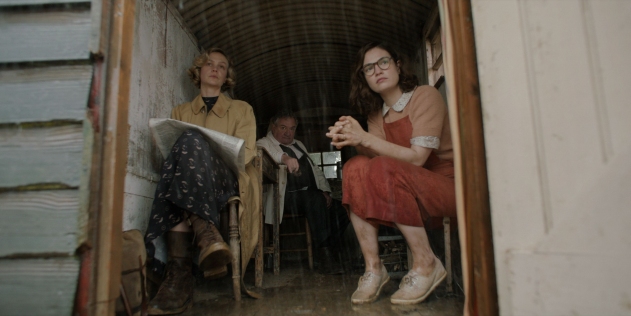 Carey Mulligan and Lily James in THE DIG.
The production team first contacted me in 2014, when Susanne Bier was in the director's chair. I met with Bier and gave her the grand tour of the Sutton Hoo gallery, but then things fell quiet. Sporadic reports of changes to the cast and crew made me wonder if the film would ever be made. Then suddenly, during Sutton Hoo's eightieth anniversary year, THE DIG came back.
In summer 2019 I welcomed production designer Maria Djurkovic, art director Karen Wakefield, and other members of the film's art department to the British Museum, where I bombarded them (at their request) with archive materials. They were astonished by the photographs and spent hours, over several visits, studying them and bombarding me (at my request) with questions. Their concerns differed completely from those of the usual researcher: they wished to understand the excavation as a physical and practical environment rather than as a window on the seventh-century past. Inspired, I found myself viewing the photographs with new eyes. A case in point involves a pair of white shoes worn by an excavator in the images. I remarked that I'd always wondered why an archaeologist would choose to wear white shoes in a trench – and Karen Wakefield replied that they were plimsolls, and plimsolls just tended to be white at that time. So, we learned from each other.
---
READ MORE:
Interview with Archaeology Advisor on AMC's THE TERROR
---
Ralph Fiennes also came to research his character Basil Brown, the self-taught archaeologist who made the discovery at Sutton Hoo. Brown's papers, which he bequeathed to the Museum in 1977, are a unique blend of field notes, scrapbook, artist's sketchpad, and memoir, all narrated in his distinctive voice. Senior archivist Francesca Hillier and I dug out every image of Brown that we could find, and Fiennes studied them for clues about the archaeologist's mannerisms and clothing, picking out details like a pocket-watch that was ever-present in his waistcoat. We were even treated to a preview of Fiennes' Suffolk accent as he practiced by reading passages of Brown's diary aloud.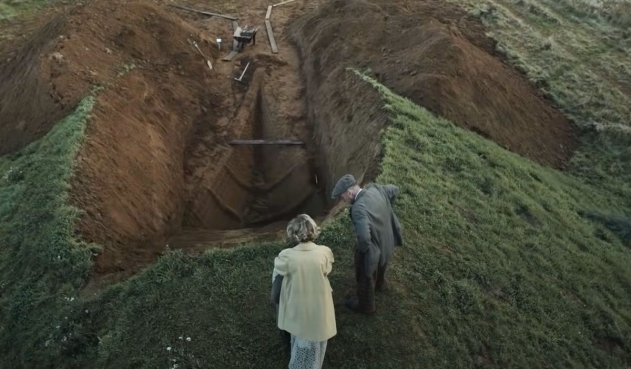 Carey Mulligan and Ralph Fiennes in THE DIG.
That autumn, I was invited to the set and saw the fruits of the art department's research. As I approached the 'excavation,' I genuinely gasped. The tableau before me was an archive photograph made real: the iconic skeleton of the Sutton Hoo ship, populated with white-plimsolled archaeologists and Basil Brown himself, complete with pocket-watch. Maria Djurkovic's trench was an ingenious creation, described by her in the media as an excavation in reverse – the shoot began with the ship fully uncovered, then worked its way back in time, filling in the ship as it went. It's the kind of feat that deserves an honorary archaeology degree.
When I saw the finished film, I realised that the team had deployed their research on an even more granular level. During the excavation scene, the layout of the artefacts in the ground, their orientations and relative positions, had all been taken directly from the archive photographs, with little concession to aesthetics. For instance, a gem-encrusted purse-lid is shown face-down, just as it was found, rather than flipped onto its pretty side. Even the celebrated Sutton Hoo helmet, probably the only find from the burial that audiences might recognise, is presented faithfully in a shattered condition – glimpsed only as distinctive fragments, like Easter Eggs for archaeology nerds.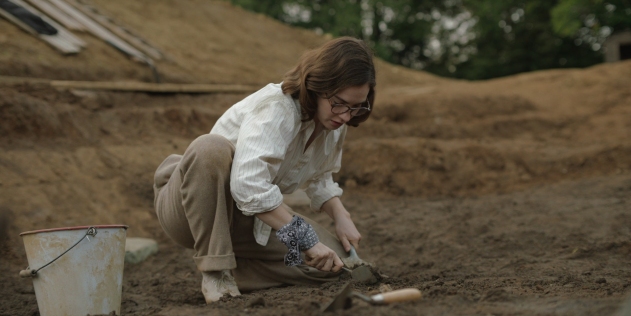 Lily James in THE DIG.
But alongside this physical authenticity, the filmmakers got something else right: the emotional experience of doing archaeology. When Peggy Piggott (Lily James) unearths the first gold object from the trench (just as the real Peggy did in 1939), all sound evaporates except for her breathing. This is absolutely what it feels like to make an important discovery. Your colleagues, their chatter and bustle, vanish and it's just you and the thing, alone together, until word gets out about what you've found. It's a sacred moment, to be the first person to see and touch something that was last seen and touched over a millennium ago. THE DIG's transcendent excavation scene left locked-down archaeologists yearning for the field and this curator, marooned from her collections, in tears. It proves that archaeology on film does not have to feature curses, mummies, and face-melting lightning to be thrilling. The fedoras, however, are fine.
---
More from Sloan Science and Film: