A Sense of Story
Museum of the Moving Image and Future of StoryTelling (FoST) have partnered to present a new exhibition showcasing the innovative digital techniques used by emerging artists to change the way audiences experience storytelling. Sensory Stories: An Exhibition of New Narrative Experiences features virtual-reality experiences, interactive films and participatory installations designed to fully immerse viewers in their storytelling landscapes. Though there is nothing to taste, the seventeen exhibits are a feast for the other four senses, incorporating sight, hearing, touch and smell to enrich their individual stories.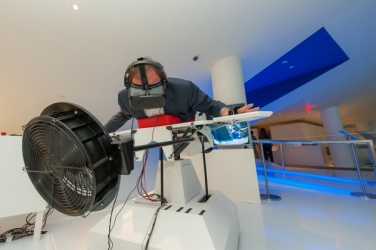 The installations are spread across all three floors of Museum of the Moving Image, with the most visually impressive occupying the lobby. There, visitors will find Birdly, Max Rheiner's full body virtual reality simulator replicating a bird in flight over Manhattan. It's a dizzying experience, and the most fully immersive of the exhibits, requiring the participant to lie on her stomach with arms outstretched, flapping to remain in flight and pitching forward to simulate a steep dive; the phrase "bird's eye view" has never been quite so literal.
An installation from directors Jeremy Mendes and Leanne Allisoncomes back down to earth with a bear's eye view, no virtual reality required. Bear 71 is an interactive documentary narrated in voiceover as it tracks the titular bear over ten years in a Canadian national park, capturing her on dozens of camera stationed across the park as she raises cubs and interacts with the elk, cougars, and other wildlife around her, including some close calls with humans. The candid animal moments captured are stunning, and it's not hard to become emotionally invested in the bear, making the documentary's unexpected conclusion that much more painful.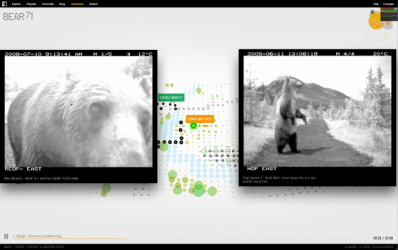 The exhibits truly cater to all ages—in an interesting juxtaposition on the second floor, Dark Room Sex Game sits directly next to Goldilocks and the Three Bears: The Smelly Version. The former by Copenhagen Game Collective is hidden away behind a curtain, requiring two players to work together in rhythm using only audio and touch to reach what the game describes as a mutually satisfactory climax. Vapor Communications and Melcher Media's more family-friendly Goldilocks retells the classic story with the help of the oPhone, a device that emits different scents at key points in the story. As Goldilocks wanders through the house of the three bears, she can smell toast, coffee, chocolate, and fruit, turning up her nose at some and finding others to be just right.
Turning from smell to sight, four Oculus Rift headsets occupy one level, each with a vastly different immersive experience for the participant. Chris Milk and Digital Domain's Evolution of Verse is a photorealistic, CGI rendered short film, pulling cues from both the Lumiére brothers and Kubrick as it jolts the viewer through time and space, while Félix and Paul Studios' Herders hews towards documentary realism, immersing the viewer in the lives of Mongolian nomads as they herd yaks across a mountainside and prepare an intimate family dinner in a yurt. Vincent Morisset's Way to Go is the only interactive game of the group, a mesmerizing, hand-drawn animated walk (or run) through a black and white wooded trail that gradually gives way to a psychedelic forest, while also allowing the player to stop and look closer at the birds, insects, and other inhabitants of the forest.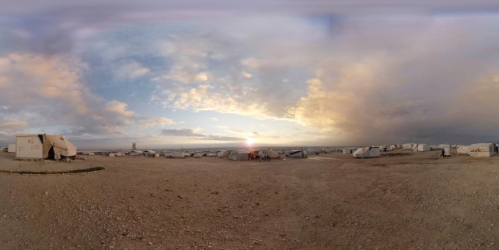 Though Way to Go and several of the other pieces are enjoyable simply as fun games, others chose to engage with social and political issues. Clouds Over Sidra, another Oculus Rift experience from Chris Milk and Gabe Arora, was commissioned by the United Nations to personalize distant global issues to haunting effect; as the viewer follows twelve-year-old Sidra around the Za'atari refugee camp in Jordan, home to 84,000 Syrian refugees, groups of children stare directly at you as they crowd the gates of the camp. Pry looks at the effects of war closer to homein a tablet app by Samantha Gorman and Danny Cannizzaro, immersing the viewer in the life of a Gulf War veteran coping with traumatic memories. As his story unfolds through a combination of text and images, the viewer can physically pinch apart his words, revealing the many layers of his experience. In a dark twist on the classic "choose your own adventure" game, Ink Stories' 1979 Revolution Game places the player on the receiving end of a brutal interrogation. Cast as a captured photojournalist named Reza in 1970s Iran, the player is forced to make life or death decisions as he is relentlessly questioned for information, with wrong answers being severely punished.
Though less visually arresting than some of the virtual reality pieces, some installations manipulated natural perception to great effect. In Emilie Tappolet and Raphael Munoz's Mimicry, two seemingly static paintings actually reflect the movements of those passing by, with the slightly creepy, Renaissance inspired Le Petit Baptiste featuring an infant who imitates the facial expressions of the viewer. On the third floor is Parade, a simple yet still captivating interactive sculpture piece from Dpt and ceramic artist Laurent Craste. As a swinging 'lamp' illuminates two ceramic vases, their shadows are activated, engaging each other in combat or adance in a video created in real time to match the movement of the lamp; it's reminiscent of the candelabras come to life in Beauty and the Beast.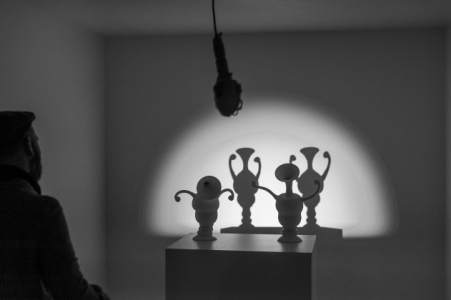 Despite its placement in the Museum's lobby, Hidden Stories, an illustrated sensory wall project from Red Paper Heart, seemed like the perfect conclusion to the exhibition. The participant uses a handheld speaker, placing it over an illustration on the wall to listen to a short recorded story relating to the image; as the speaker is moved on to another image, the previous image stays illuminated, tracking the different stories. In a unique feature, the last icon on the wall is a "record" image, allowing visitors to crouch down and whisper their own stories, preserving these final impressions in a computer database for future use.
Future of StoryTelling founder Charles Melcher said of the exhibition that he hopes viewers will be able to "experience stories in immersive and powerful ways that remind us of the sensory joy of being alive." Whether it's soaring above Manhattan on the wings of a bird, taking a meandering walk through a hallucinogenic woodland, or smelling something new with each turn of a page, Sensory Stories has plenty to see, and even more to live for.
Sensory Stories opens to the public on April 18 and will be on view through July 26 at the Museum of the Moving Image.
Installation photos by Thanassi Karageorgiou / Museum of the Moving Image.