Science in Action Opens at MoMI
Twitch, Pop, Bloom: Science in Action is a new exhibit opening on May 5 at Museum of the Moving Image. Curated by Sonia Epstein, the show presents films produced for scientific education and entertainment between 1904 and 1936, an era when cinema was still a novel tool for manipulating time and scale to show what was imperceptible to the naked eye. Moving image cameras were distinct from earlier technologies because they could record movement, and thus life: bacteria wiggling, roses unfurling, mouse cells drinking, and starlings nesting. Such images made substantial contributions to the study of living organisms. Some scientists whose work is on view built their own cameras, creating films that could communicate scientific ideas to those outside their professional communities but were also aesthetically driven and even magical, leading viewers to wonder how they were made. Many of these works were shown not only in classrooms but also in film halls, museums, and other public venues. They were frequently the results of collaborations between disciplinary specialists and production companies that provided access to high-quality, speciality film equipment.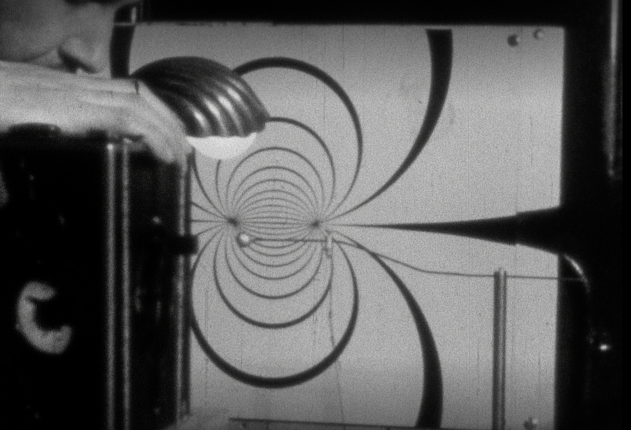 Still from FARADAY'S LINES OF FORCE
Science in Action is divided into two programs. Program One: In the Lab (May 5–June 16) exhibits films that were primarily shot in controlled environments, often a laboratory setting. Program Two: In the Field (June 16–July 17) showcases films primarily shot in the field, a feat considering the size of movie cameras in the early 20th century. Among the work selected are some of the first films utilizing time-lapse, slow motion, and micro-cinematography; one of the earliest color films; one critical to the rapid diagnosis of disease; and popular early nature films.
Program I: In the Lab (Total run time: approx. 30 mins)
Motion Study of a Bullet Penetrating a Soap Bubble
Lucien Bull, 1904
Spirochaeta Pallida (Agent de la Syphilis)
Jean Comandon, 1909
The Birth of a Flower
F. Percy Smith and Charles Urban, 1910
Magic Myxies
F. Percy Smith and Mary Field, 1931
Pinocytosis: Drinking by Cells
Warren H. Lewis, 1936
Faraday's Lines of Force
Kodak, c. 1933
Program II: In the Field (Total run time: approx. 30 mins)
Lobsters
László Moholy-Nagy and John Mathias, 1936
Wild Birds In Their Haunts
Oliver Pike, 1909
Bees and Spiders
G. Clyde Fisher, c. 1927
---
More from Sloan Science and Film: