Science on Screen Presents Extinction and Otherwise
This year, our ongoing series Science on Screen presents a year-long edition called "Extinction and Otherwise." The series features scripted and non-scripted films that depict extinction, survival, and life as it might be. It is organized by seven themes that draw attention to socioeconomic, political, and ecological structures that have contributed to our unstable times. Including WOMAN IN THE DUNES, FORCE MAJEURE, ANNIHILATION, and a number of new films, programs are paired with writing by scientists, scholars, and filmmakers examining the ways extinction is perpetuated and yet life persists within new landscapes.
The series begins on February 13 with the theme of inequality. Two celebrated black-and-white films highlight how people of different backgrounds are variably impacted by disasters. Ranald MacDougall's 1959 film THE WORLD, THE FLESH, AND THE DEVIL plays at 3pm. Starring legendary singer, actor, and activist Harry Belafonte in one of his first leading roles after his breakthrough in Otto Preminger's classic CARMEN JONES, THE WORLD, THE FLESH, AND THE DEVIL takes us to an eerily quiet New York City after a radioactive explosion has killed almost everyone. Those few survivors, which include Belafonte's Ralph Burton, a white woman (Inger Stevens), and a white man (Mel Ferrer), must decide what kind of existence they want to cultivate. Director Ranald MacDougall addresses the social constraints within which his characters struggle and the possibility for change in a surprisingly direct way. Shot in CinemaScope on location, this is a film for New Yorkers to see on the big screen.
The screening will be accompanied by an essay by Stéphanie Larrieux, Brown University's Associate Director of the Center for the Study of Race and Ethnicity in America, on how vulnerable communities are particularly endangered by disasters.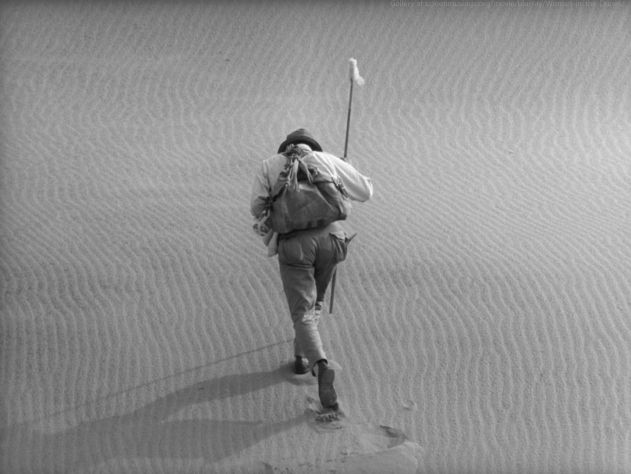 WOMAN IN THE DUNES
At 5pm, Hiroshi Teshigahara's 1964 film WOMAN IN THE DUNES screens in 35mm. Ghost story, Sisyphean tale, erotic romance—WOMAN IN THE DUNES (SUNA NO ONNA) is a landmark of the Japanese New Wave. A collaboration between filmmaker Teshigahara and surrealist writer Kōbō Abe, the film stars Eiji Okada (HIROSHIMA MON AMOUR) as an entomologist who travels to the beach outside of Tokyo to study the local tiger beetle. A series of events lead him to the bottom of a sand dune where he becomes trapped with a young widow (Kyōko Kishida); endless shoveling is the only way for them to stave off annihilation. Teshigahara was nominated for Best Director at the 1964 Academy Awards for WOMAN IN THE DUNES, making him the first person of Asian descent to receive the nomination. He later left the film industry to become headmaster of the Sogetsu flower arranging school; his close attention to detail is evident in the film's delicate scenes where body and sand intermingle. WOMAN IN THE DUNES' memorable score is by one of Japan's most celebrated composers, Toru Takemitsu.
The screening is accompanied by an essay from writer and economist Sonali Deraniyagala (Wave) about how the allegorical story of WOMAN IN THE DUNES resonates broadly, including with the climate crisis that threatens many species' existence, and with the past years' pandemic in which many have had to live in isolation. It is clear from the experience of both crises that people of varying socioeconomic classes are impacted differently, and often those at the bottom of the social ladder suffer most.
---
More from Sloan Science and Film: